My Events
Have a peek in my events to see some of the things I do at Meditatie Amsterdam!
In the years I organise workshops, courses, open meditation evenings and retreats now, I litterally guided hundreds of people by learning to meditate, often from their very first experience with it. I gave a lot of meditation workshops the last few years and in 2,5 years about 200 different people visited my weekly meditation evenings. Also I wrote a book and launched the first Dutch podcast with meditation training.
Here is a short overview of some of my activities the last few years.
TUESDAY OCTOBER 3rd: WORKSHOP BOOST YOUR MENTAL PRODUCTIVITY
| 3 October 2023
Weekend retreat meditation, breathwork and sound sessions
Enkhuizen | 25-27 Augustus 2023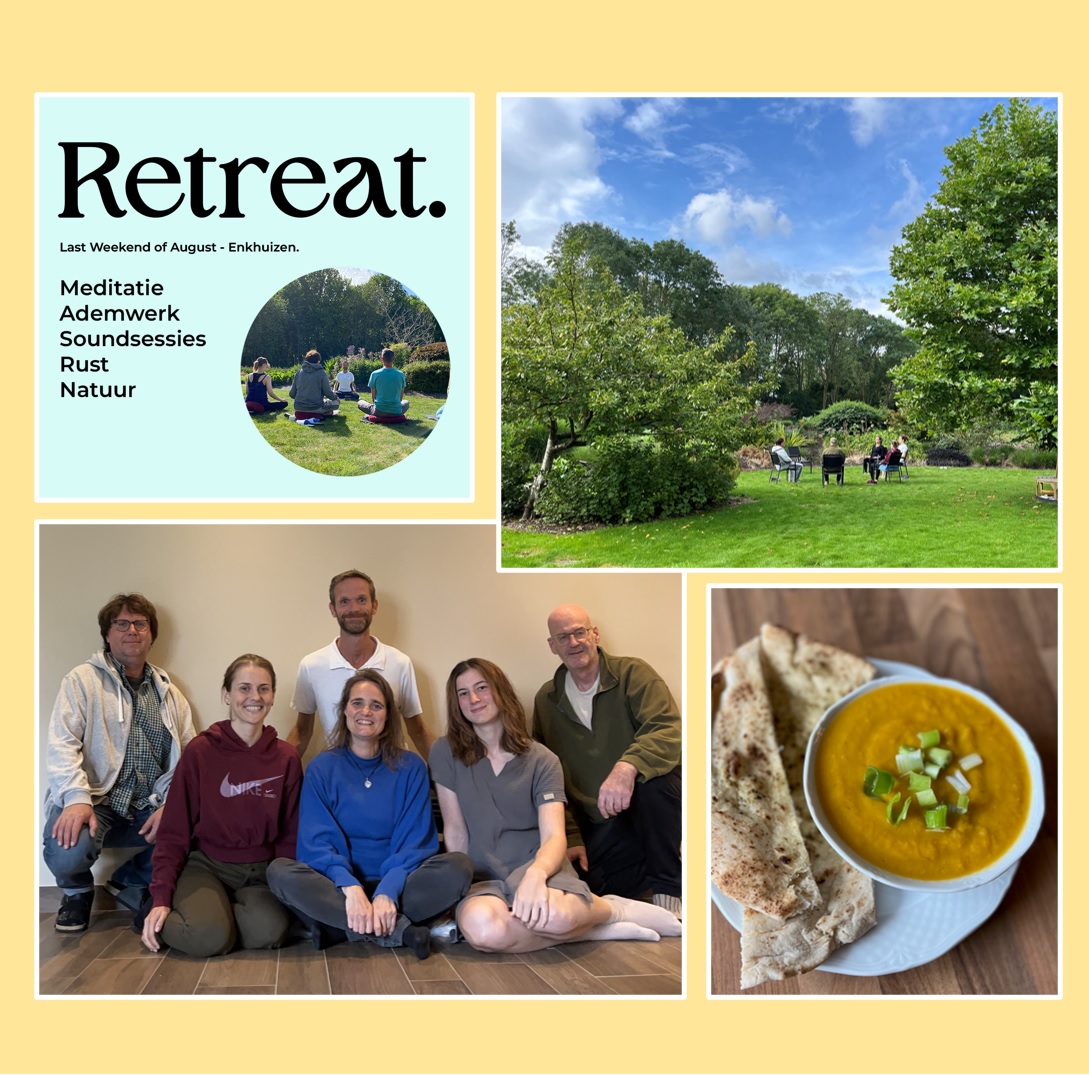 With a great and enthusiastic group of people a weekend full of breathwork, meditation and sound sessions in a beautiful villa with a great garden where we did outdoor sessions.
Podcast 25.000 downloads
Online | May 2023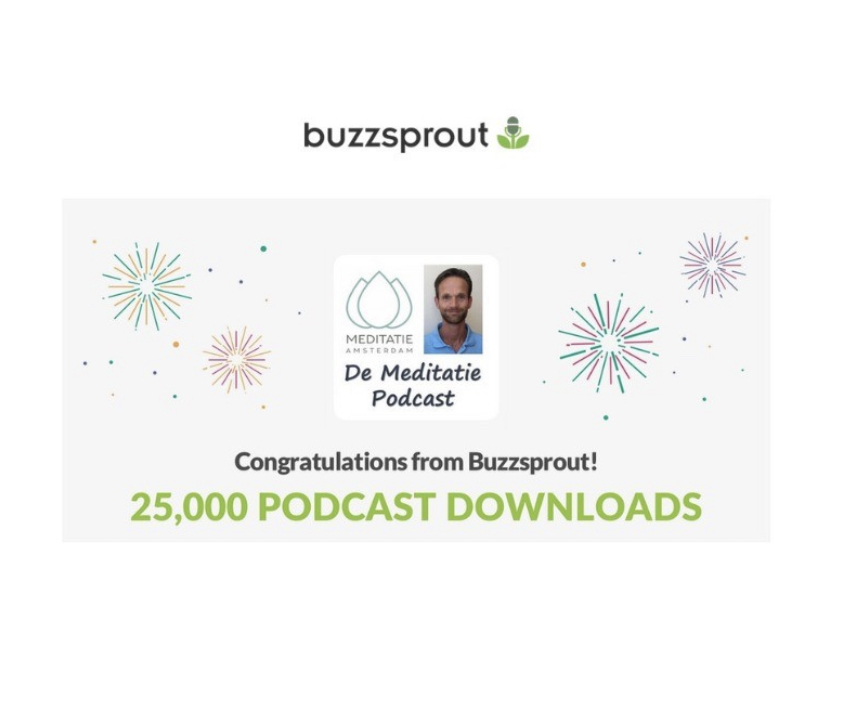 Great to see that the episodes of my meditation podcast Meditatie Amsterdam, were downloaded already 25.000 times.
Day of guiding meditations @ OLVG
Amsterdam | May 2023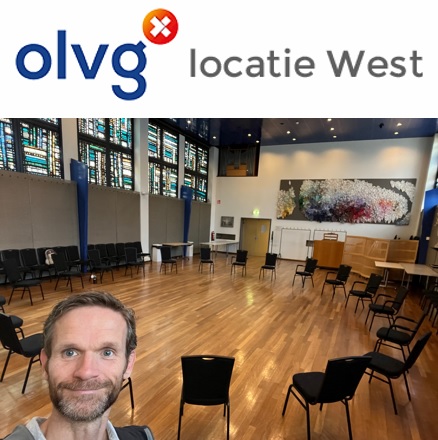 At their Day for the Caretakers, I guided a whole day long meditation sessions for groups of healthcareworkers in the hospital. And this in their beautiful chapel, which created a great atmosphere.
Meditation workshop @ Richemont Amsterdam
Amsterdam | May 2023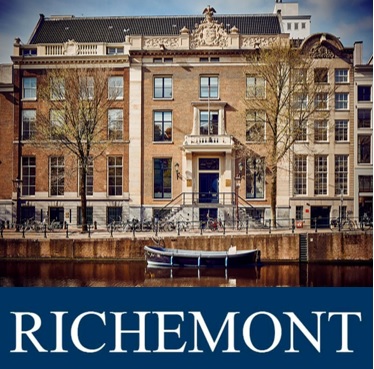 For their welbeing week I was invited by this nice company to do a workshop in their beautiful office building at the Herengracht. With a great group of enthousiastic young professionals we dove in to the matter of meditation in a practical way and of course with a guided meditation.
Fundraiser months for Nepal
Amsterdam | March-April 2023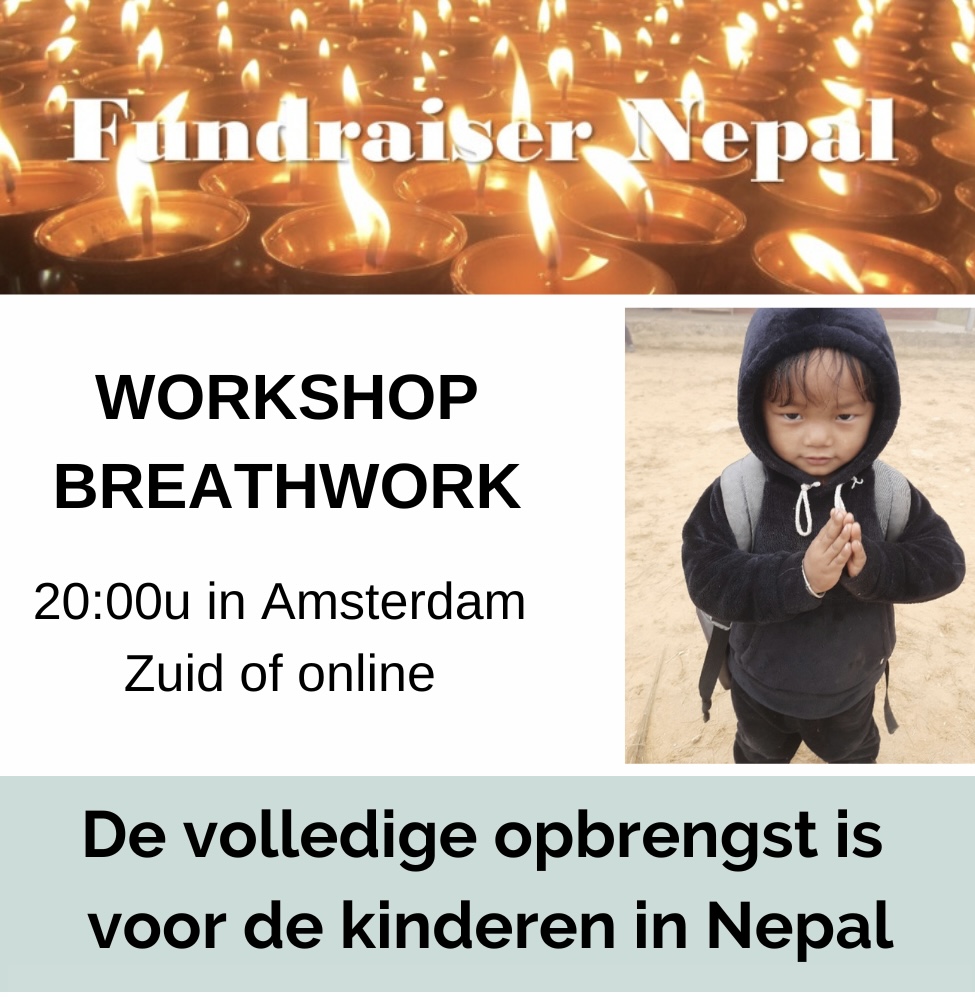 For the kids in Nepal, I organised a fundraiser and raised the beautiful amount of 1750 euros for the local projects there. This through all the revenues of my breath and meditation classes in these two months, and the revenue of the fundraiser workshop about Breathwork at the 12th of April, where twenty people attended.
All the info about the fundraiser, you can find here.
Workshop and podcast for congres sleep at VU
VU in Amsterdam | April 2023
For the Medical Faculty of the VU Universiteit of Amsterdam, I gave a few workshops for their congresabout sleep and the relationship between sleep and breathwork and recorded a podcast episode about meditation and sleep.
The full classes of enthusiastic students imersed actively in the breath sessions and they came with a lot of good questions. The podcast episode, number 85 of my Meditation Podcast, you can find over here.
Article meditation and breathwork
Online | April 2023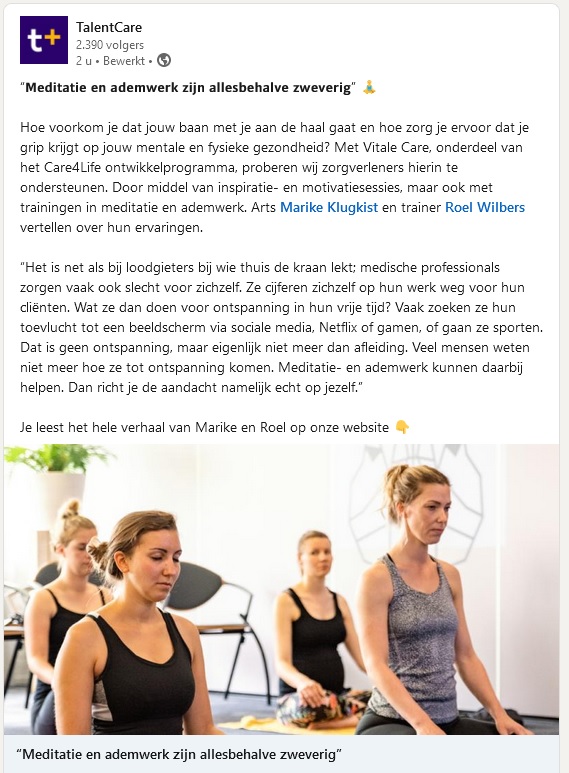 Together with someone attending my classes, I was interviewed about the cntent and effects of what I weekly offer for their company.
You can find the article on their website or over here.
EVERY THURSDAY = MEDITATION EVENING!
Online | 19 June 2026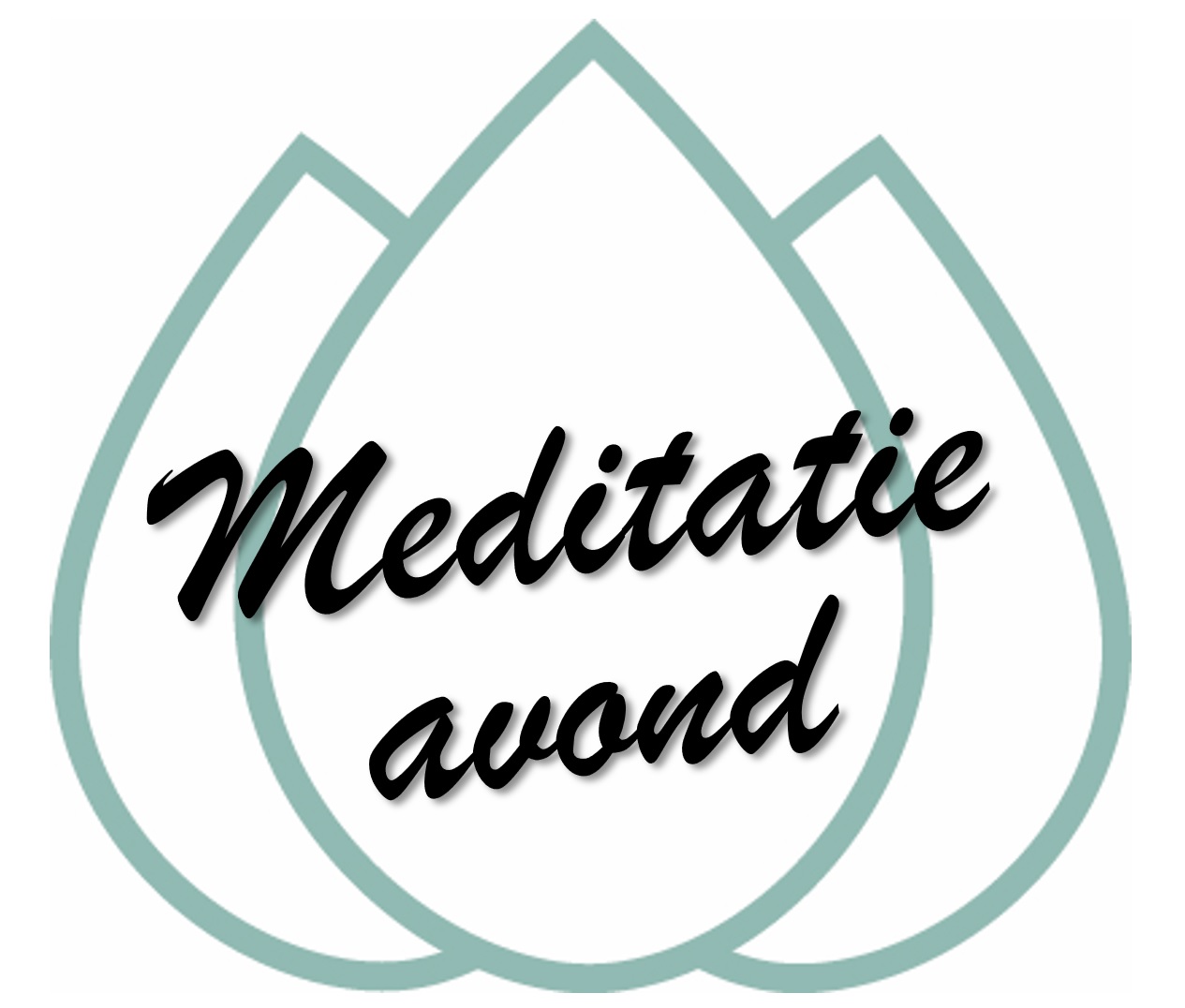 Already so since September 2015, every Thursday evening there is a meditation evening! Here we dive deeper into the subject of meditation, am I available for all your questions and is there of course a guided meditation.
Do you want to find out more about it or attend this Thursday?
All the info you can find here!
Fundraiser Day of Retreat
Amsterdam | March 2023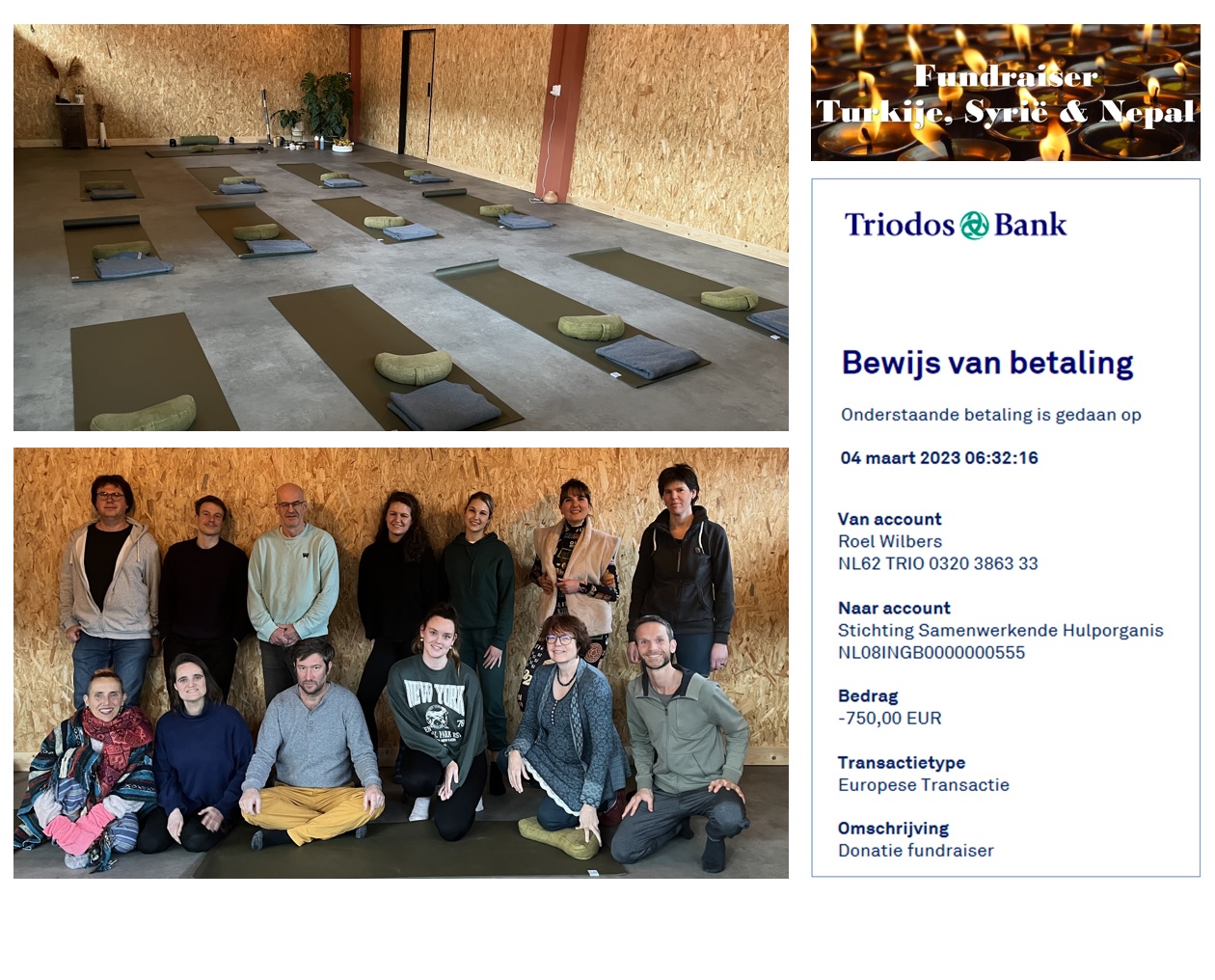 A full day of retreat in the super nice yogastudio of YogaZentrum Nada with a great group of people where all th erevenues were donated to the victems of the earthquake in Turkey and Syria a few weeks before.
Meditation, breathwork, nice food and a great vibe where the ingredients of this really relaxed day of resetting.
TalentCare healthcare workers at the weekly meditation evenings
Online | Weekly since January 2023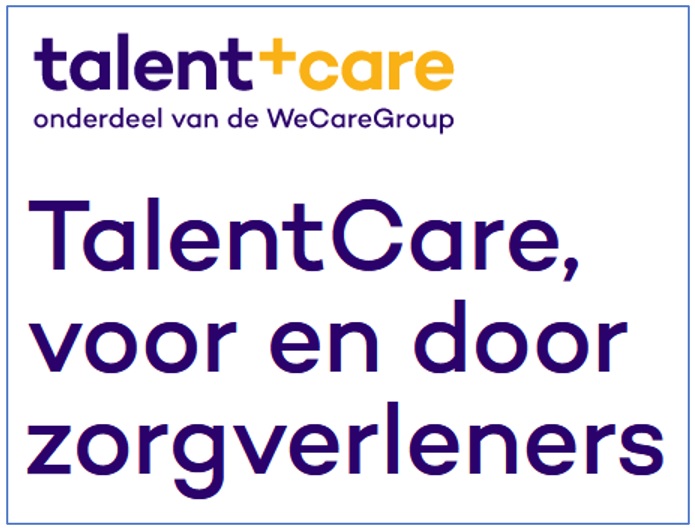 Through this great new cooperation with TalentCare their healthcare workers get access to my weekly meditation evenings. A new service for companies.
Workshop introduction in meditation & breathwork
Online | January 2023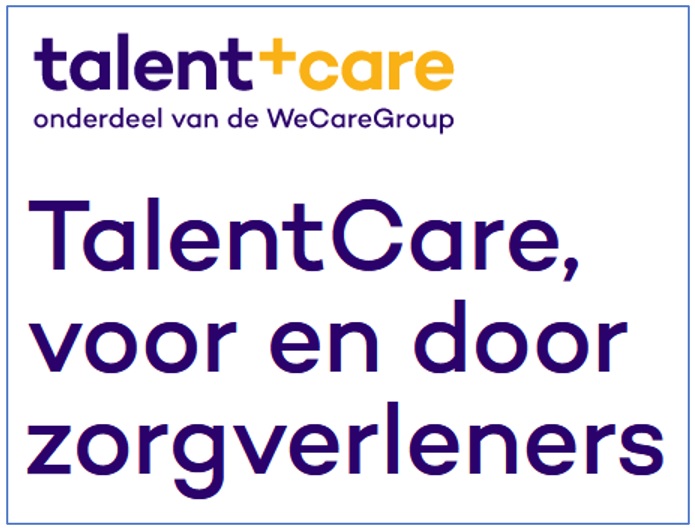 For th ehealthcare workers that work for this nice, fresh and working country wide organisation, I gave a workshop about meditation and breathwork and how to apply it and use it in daily life and their work.
Weekend retreat meditation and breathwork
Enkhuizen | November 2022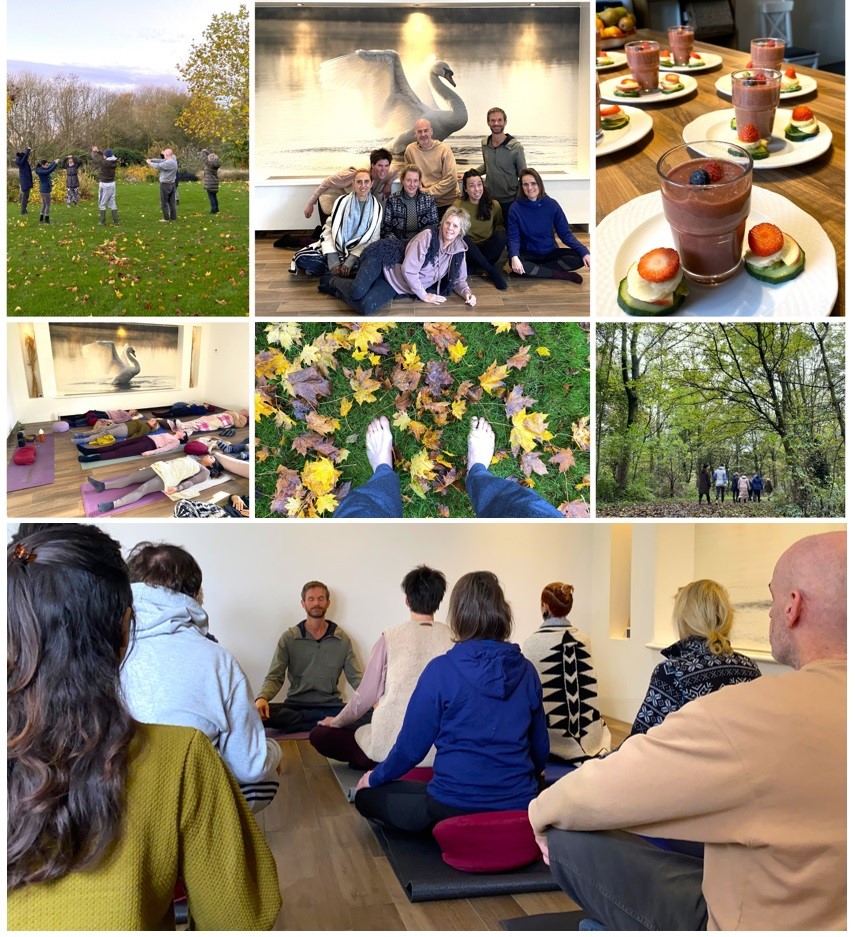 For the second time this year we went to Enhuizen for a retreat and again a nice and enthusiastic group of people we went into silence and depth with.
Workshop Mental health during the Amsterdam week for mental health
Amsterdam | October 2022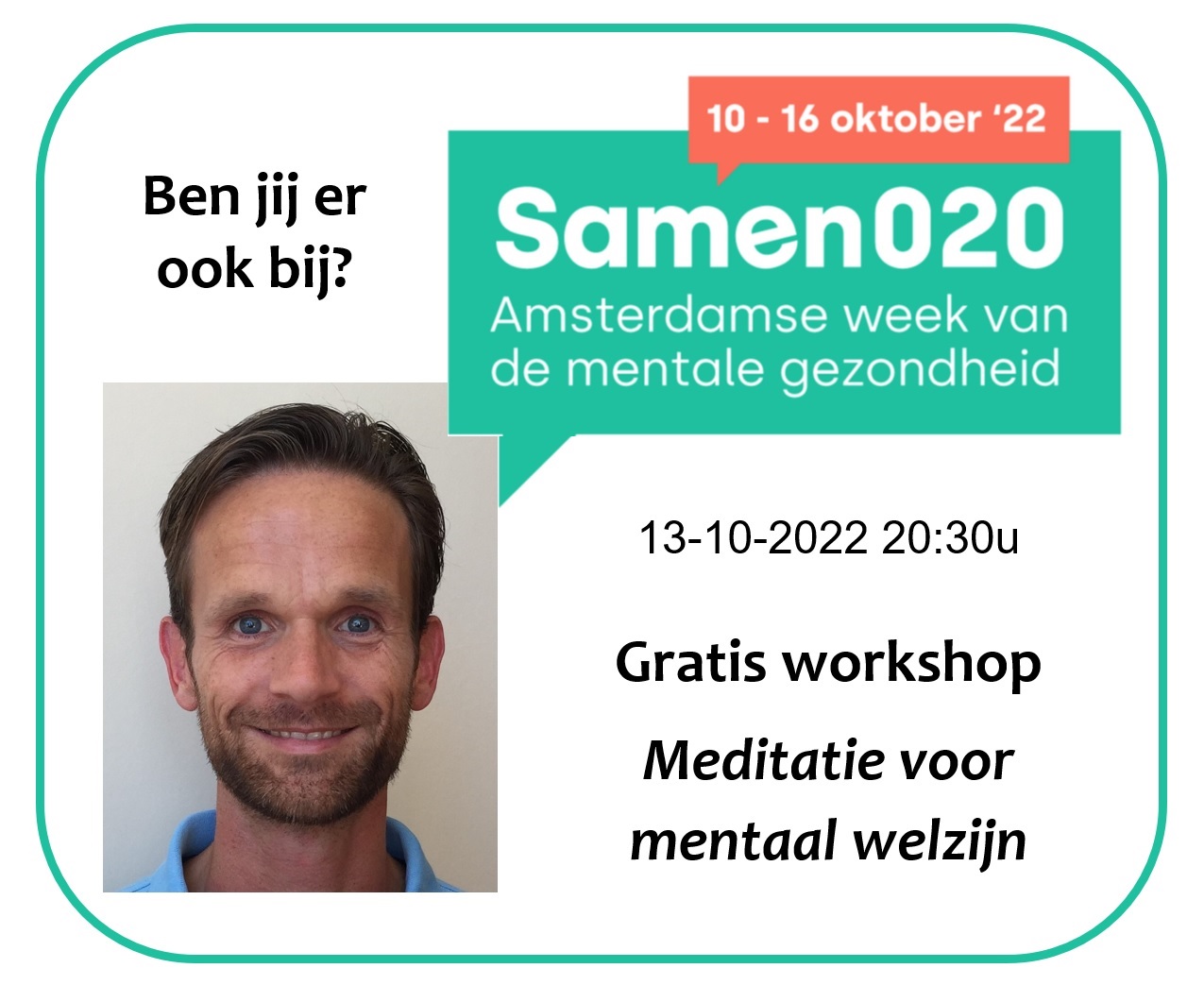 Within the health centre I work there was a lot of attention for the Amsterdam week of mental health.
This was my contribution.
Lecture Mental Health at Fluor
Amsterdam | October 2022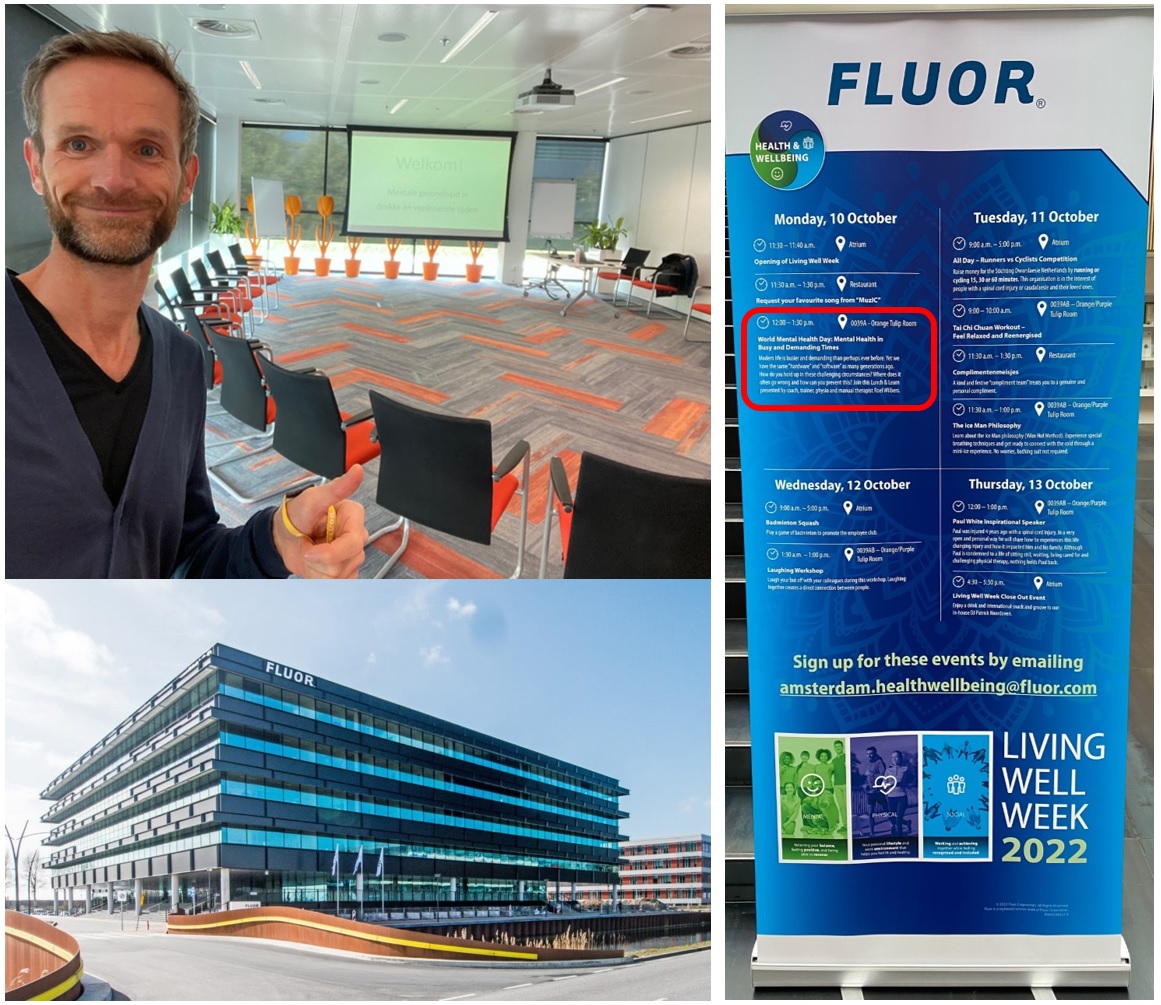 On World Mental Health I was invited by Fluor to give a lecture about mental health in these busy and demanding times.
And of course meditation played a central role in it.
Meditation workshop at Miro
Amsterdam | September 2022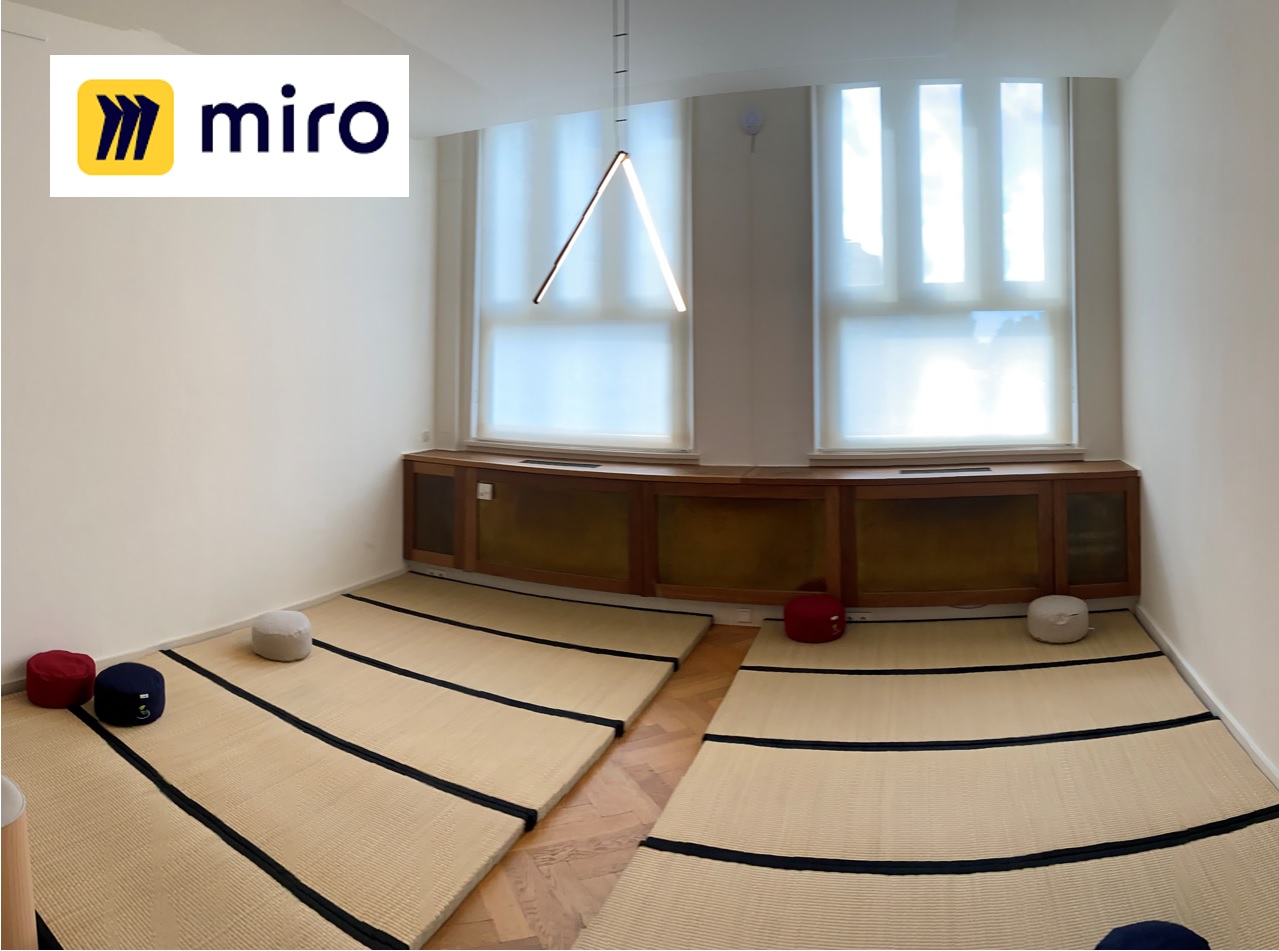 For a very enthusiatic team I gave a meditation workshop.
Hopefully their beautiful meditation room will now be used even more often.
Podcast episode 75 live!
Spotify/Apple Podcasts/Google Podcasts | July 2022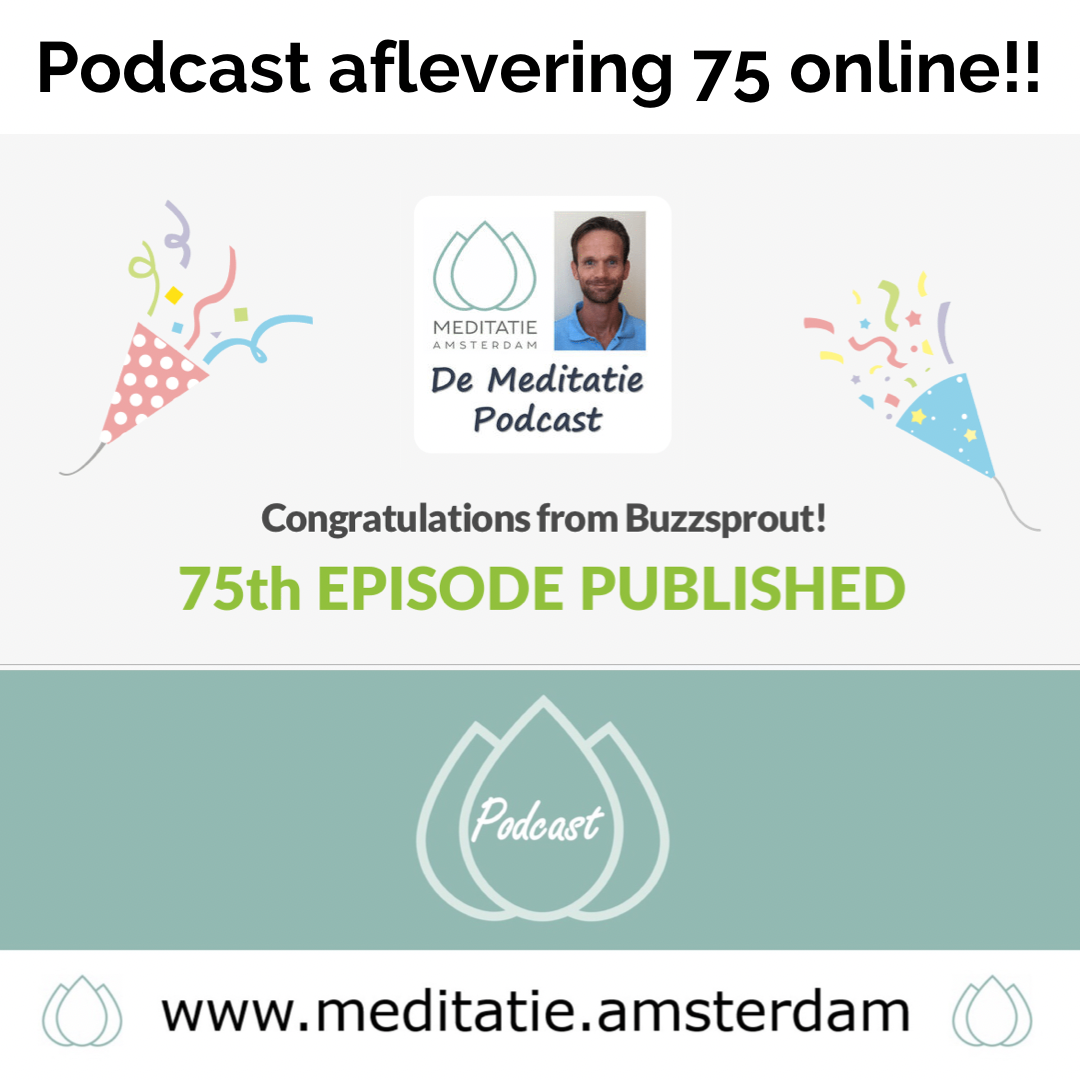 Already the 75th episode of my podcast, which I started almost 2 years ago. Yes!
Masterclasses meditation
Amsterdam | June-July 2022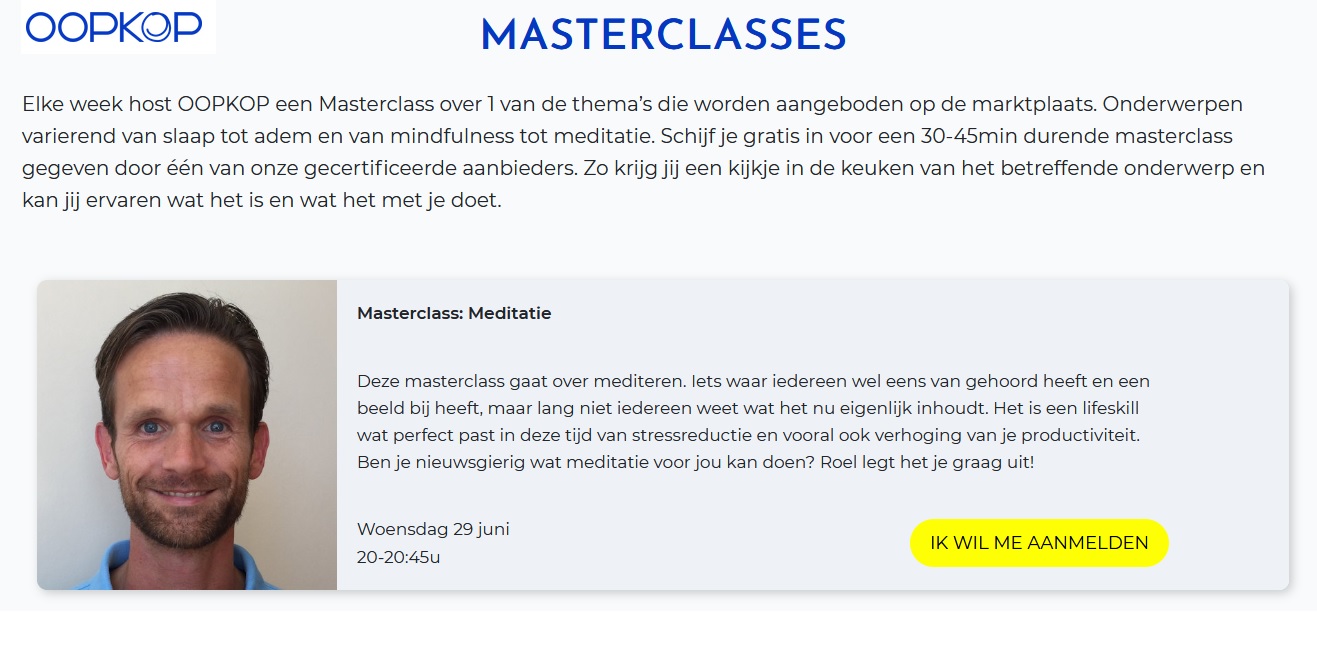 For the fresh organisation of OOPKOP where my services are part of their company offer for mental wellbeing, I gave two masterclasses about meditation.
Weekend retreat meditation and breathwork
Enkhuizen | May 2022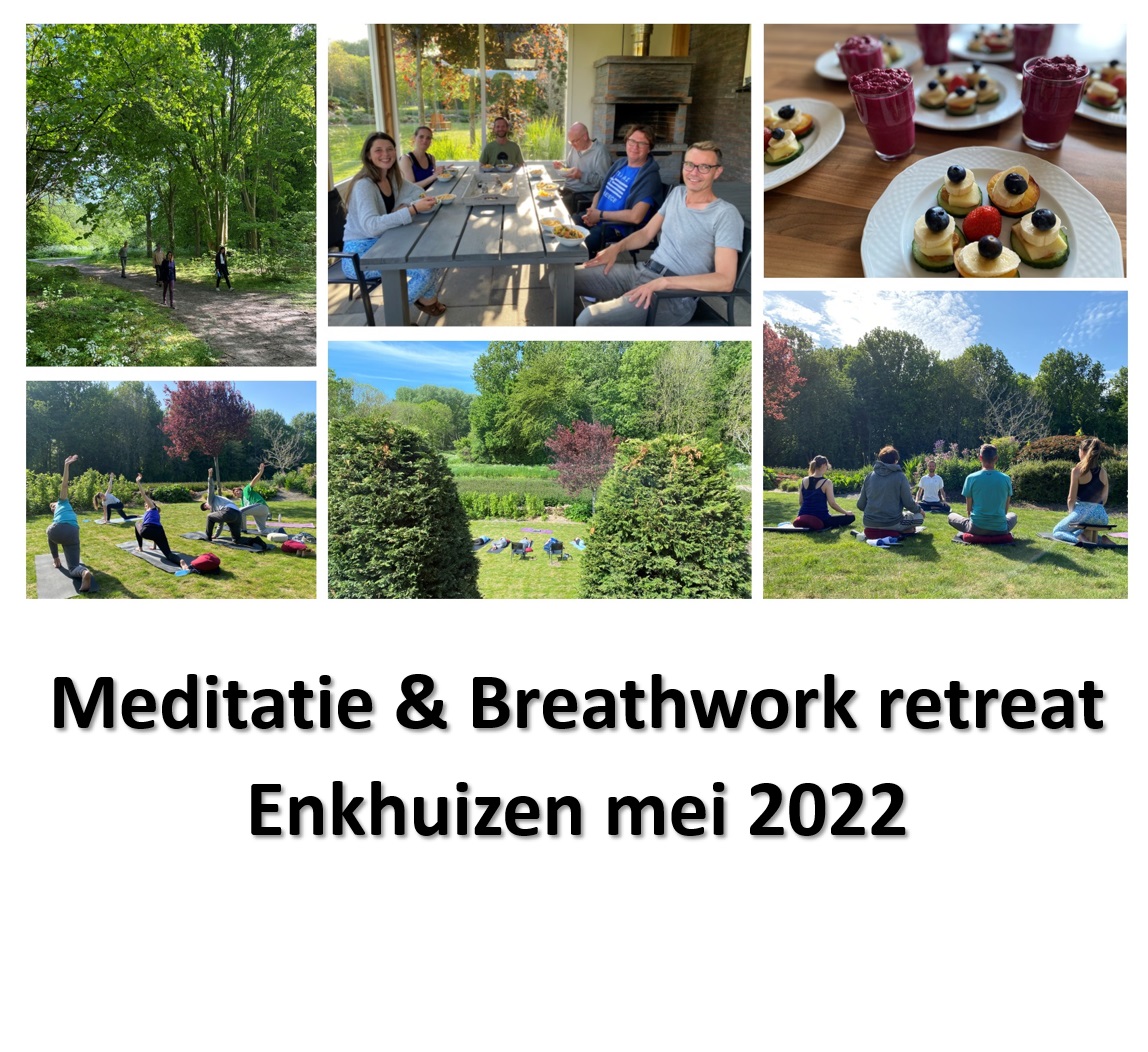 In wonderful conditions an enthusiastic group enjoyed meditation, breathwork, yoga, healthy food and nature and a lot of classes outside in the sun.
Meditate 4 Ukraine, fundraiser workshop
Amsterdam | March 2022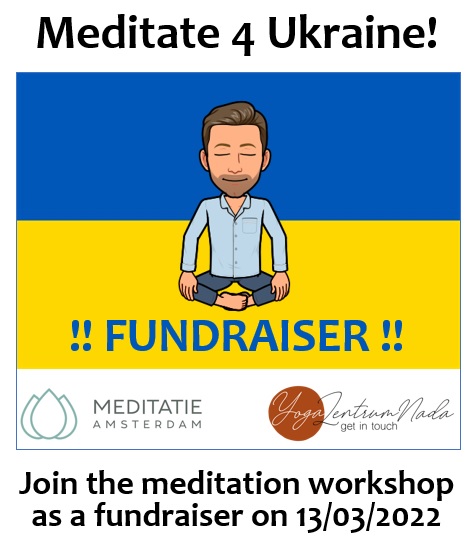 To support the people in the Ukraine that are in need because of the current war, I organised a meditation workshop for Ukraine. In this two hour workshop the people that attended got meditation explanations to help their own practise and we went into how meditating from home can actually help the people in areas of turmoil and war. We also did a guided group meditation focused on Ukraine to bring some peaceful vibes. And of course we collected money to send there and raised almost 1000 euros.
It was a nice gathering of beautiful people that wanted to help, had Ukraine as well as Rusian people present, all for the same cause: peace in Ukraine.
If you are curious about it, you can find the audio here.
Training Mental Health for students
Vrije Universiteit Amsterdam | November 2021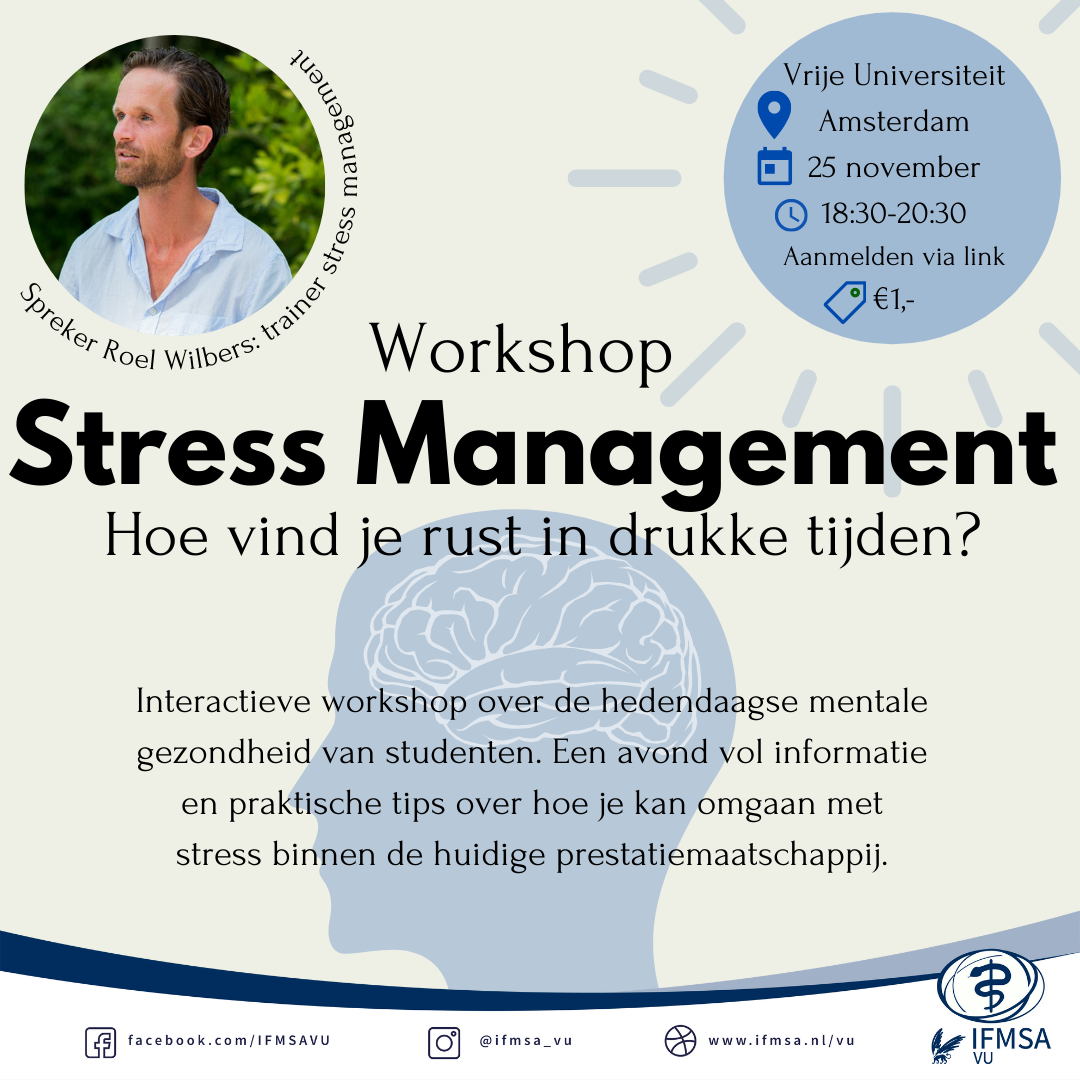 The commission Mental Health at the Vrije Universiteit in Amsterdam, asked me to give a lecture about mental health for the student of nowadays. Of course I immediately went along because students are a group that struggles a lot nowadays and I love to help, and they always come with good and fresh insights and questions. I was happy that afterwards everybody was as enthusiastic about the content as I am.
Weekend retreat meditation and breathwork
Enkhuizen | November 2021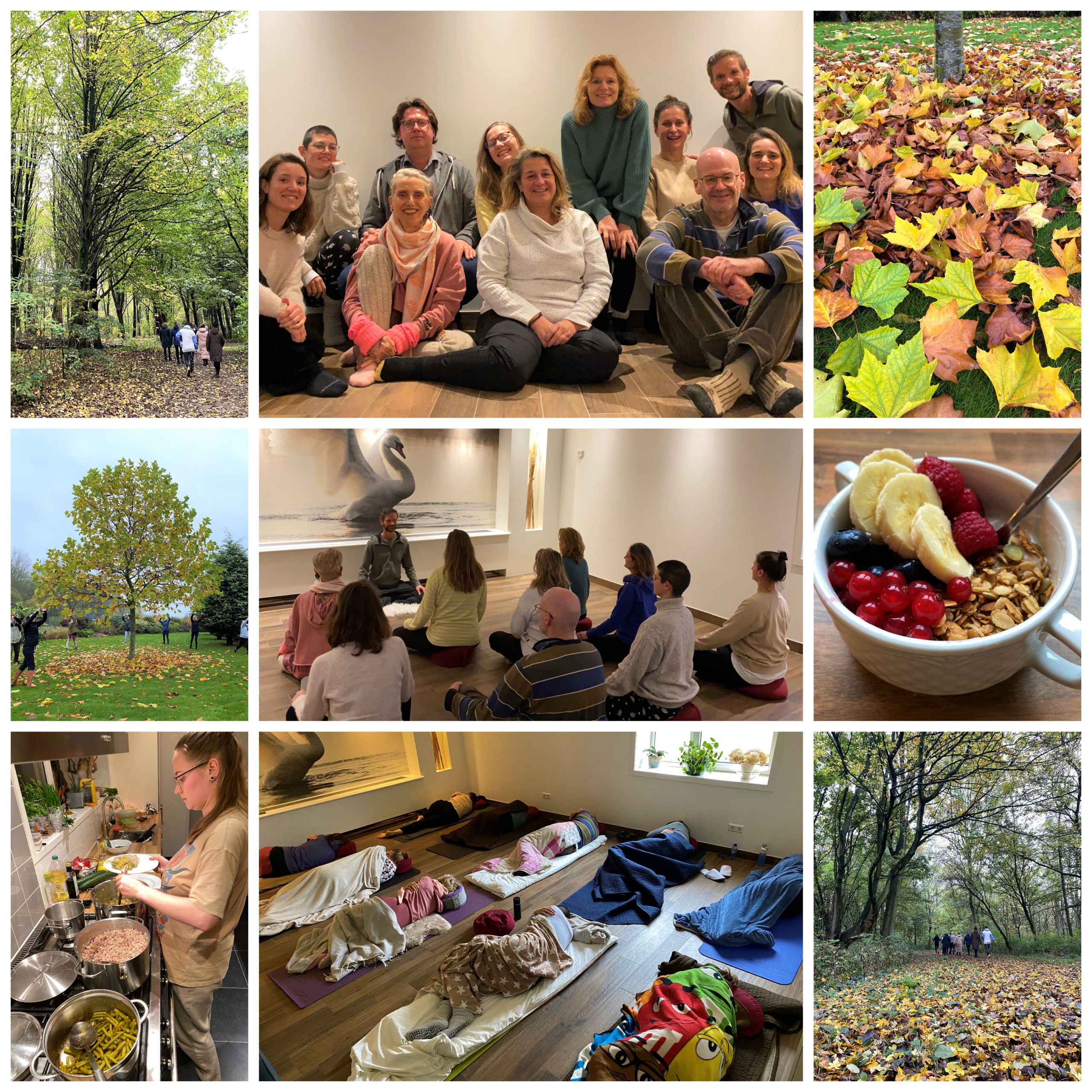 For the second time in 2021 I organised, in between the lockdowns, a retreat for an enthusiast group of people aroind meditation, breathwork, delicious and healthy food and yoga and QiGong. As you can see on the pics, we had a great time!
Interviewed for Feeling magazine
Belgium | Octobre 2021
Meditation (and breathwork) classes at YogaZentrum Nada
Amsterdam West | Since Octobre 2021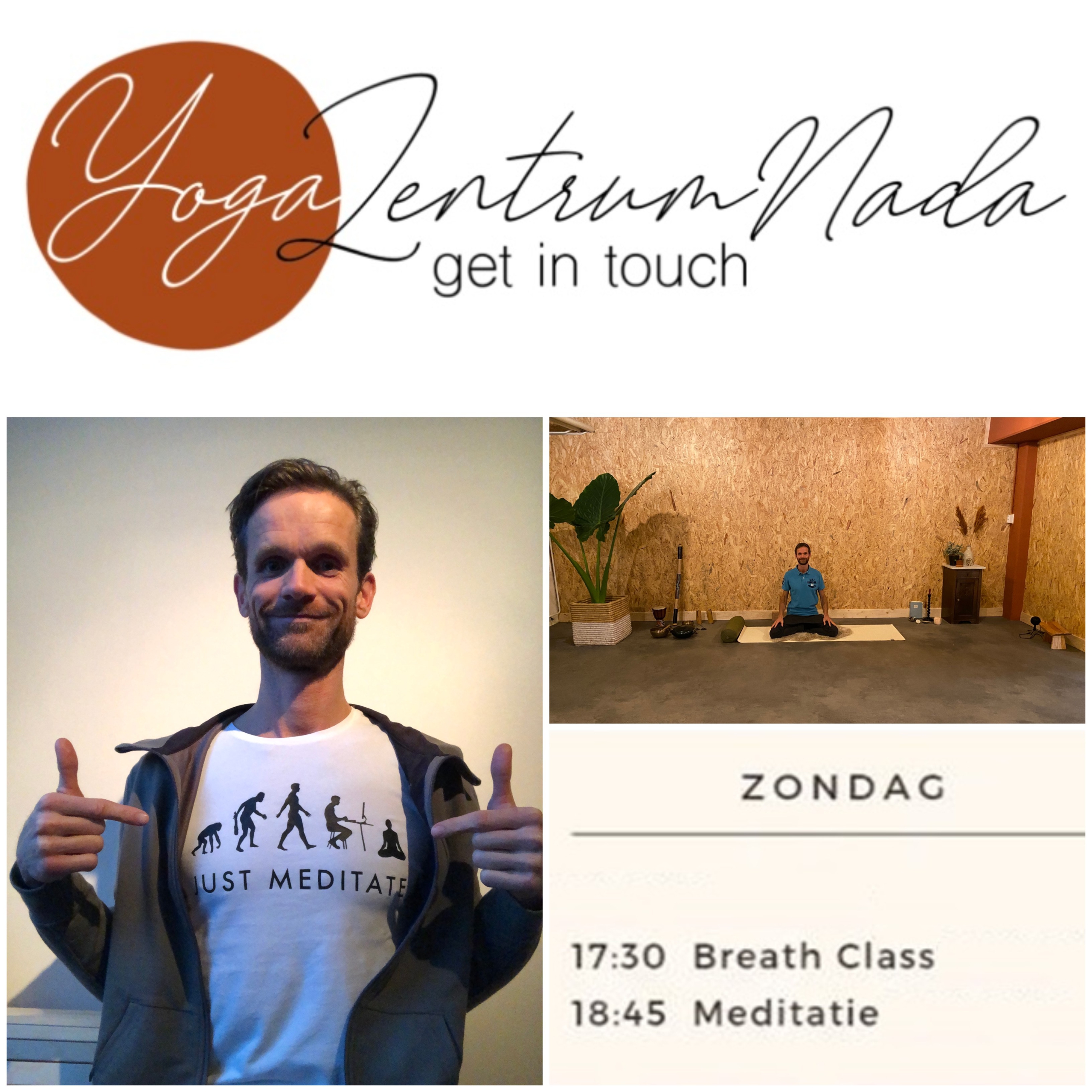 Within a fresh new team I started teaching weekly meditation and breathwork classes in this brand new yoga center on Sunday evenings. More info you can find on: https://yogazentrumnada.nl/.
Long weekend retreat
Enkhuizen | July 2021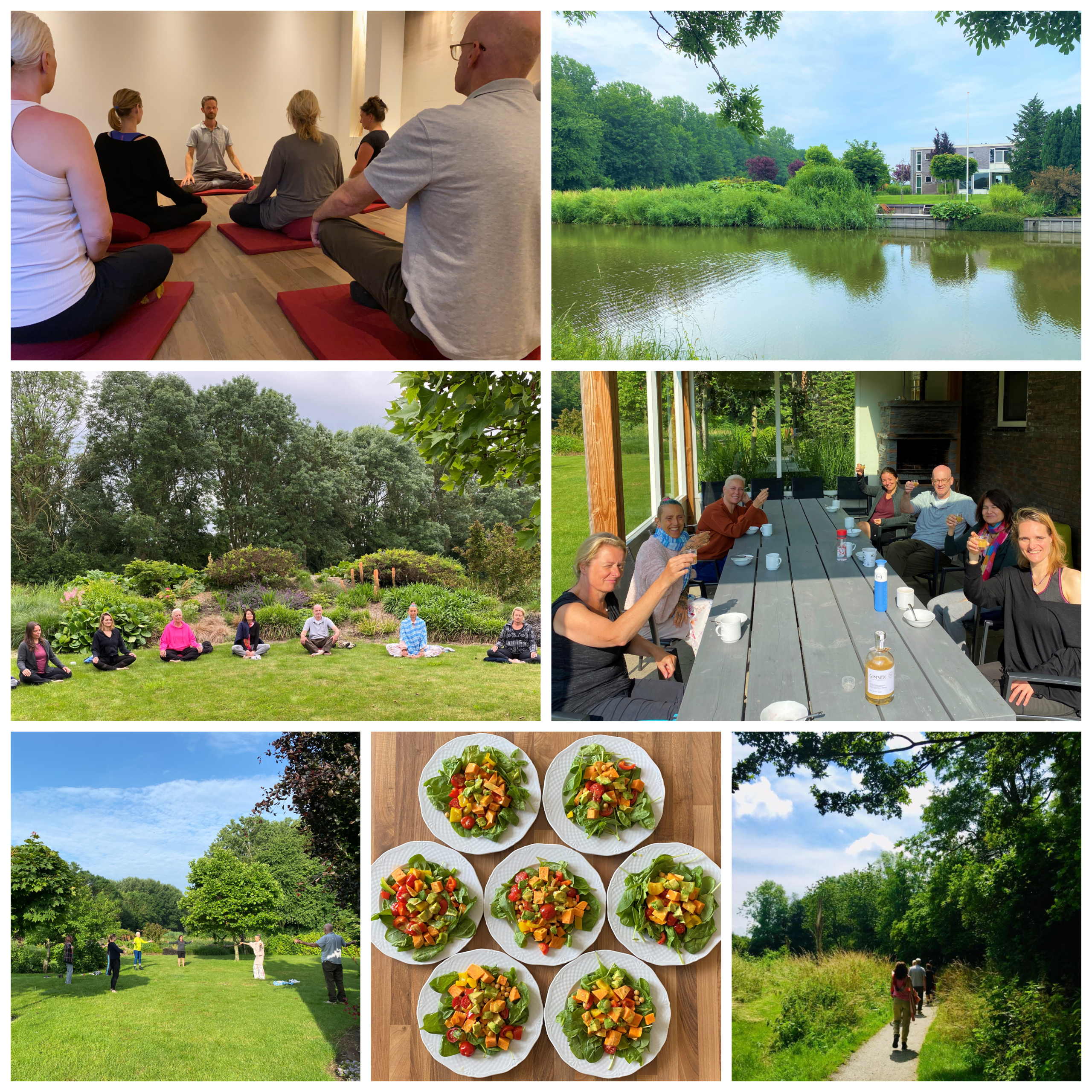 Meditation – Breathwork – Lectures and lessons – Natural rhythm – Yoga – Healthy Food – Nature;
also the fourth retreat I gave was a great experience and again with a great group of people.
Episode 50 of my podcast published!
Online | 1. July 2021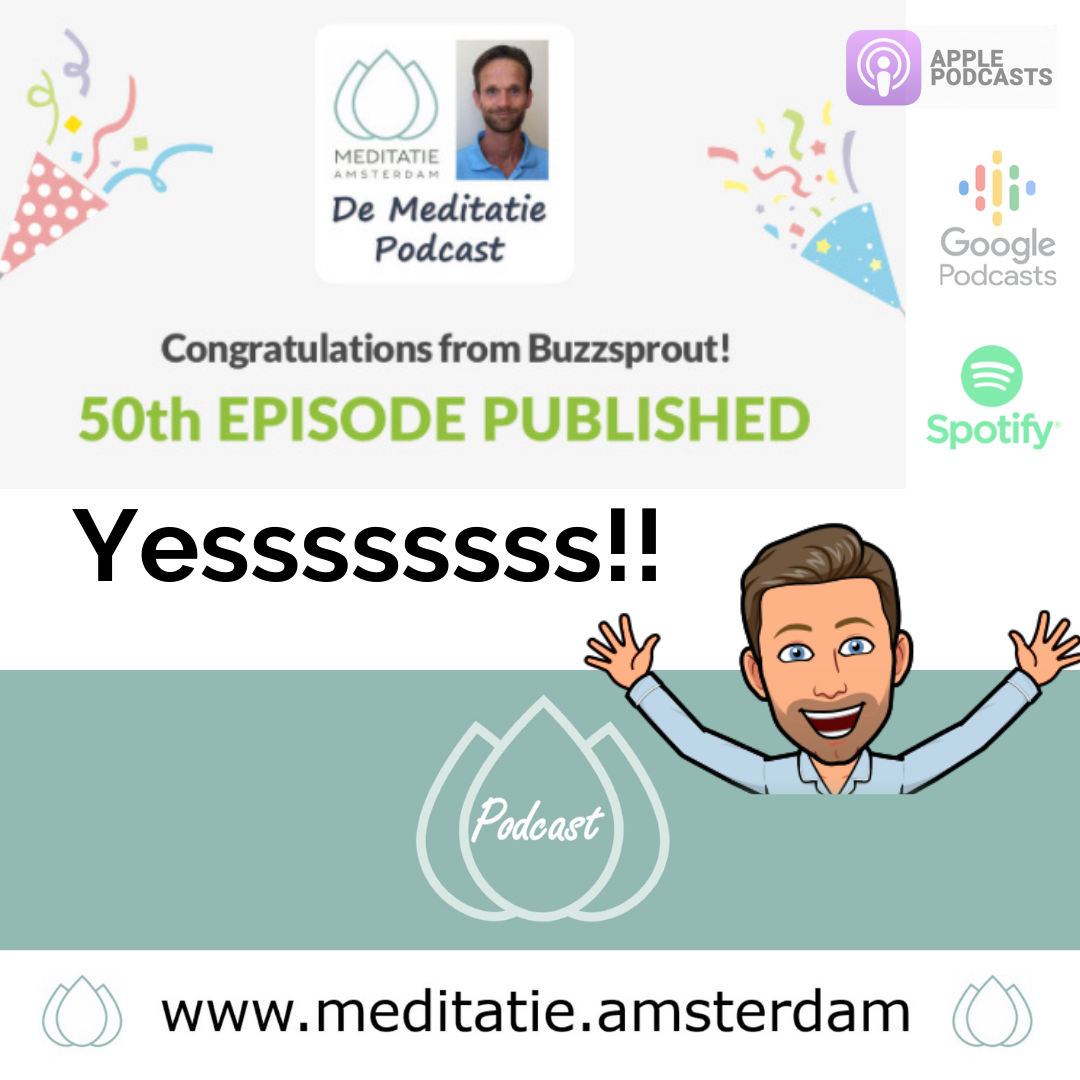 The already 50th episode of my podcast!
Super happy with that and more and more listeners that are picking it up so happy to be able to spread the word on meditation under a growing number of people.
Lecture for UvA students
Amsterdam | June 2021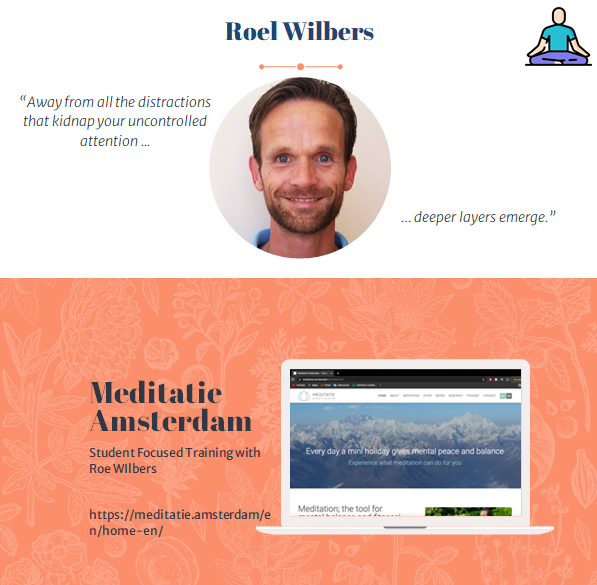 For a curricular course about societal challenges and the emphasis on the power of silence, where academia's confidence is mainly in "voice" as an instrument for empowerment, I was asked as a speaker to give an online seminar about how meditation can provide that silence and guide that inner process to come to what you want to express optimally.
I always love working with students because of their fresh views on things and the original questions that I get and this time it was not different from that. Are you curious for the seminar? I made it into a podcast so check out that episode!
Meditation classes at Yoga Spot
Amsterdam | Since October 2020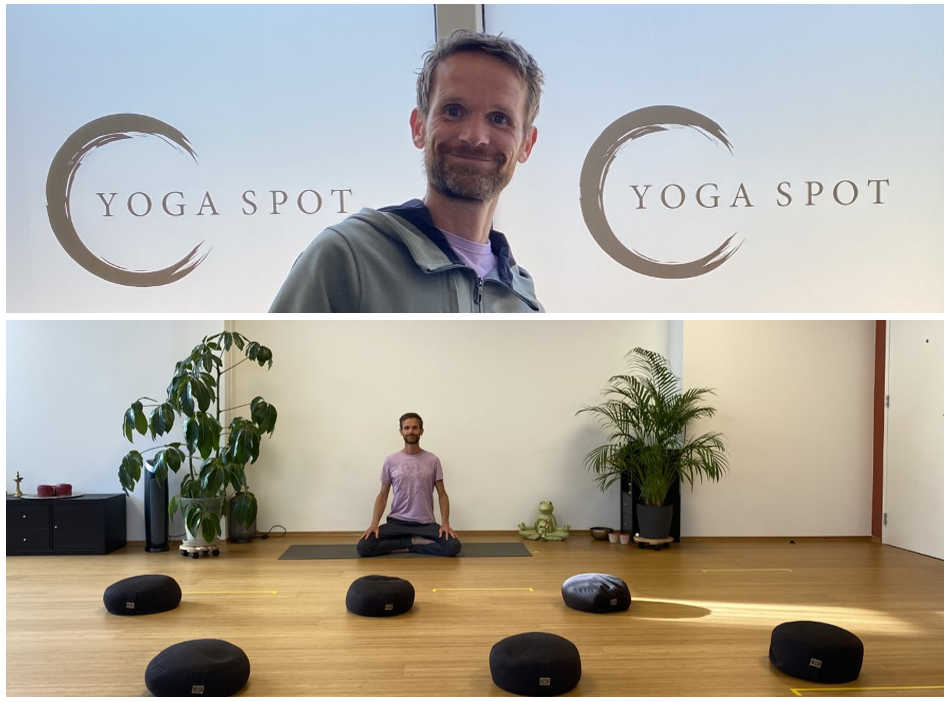 Weekly meditation classes in Buitenveldert for the members of Yoga Spot.
The 250th meditation evening!
Amsterdam | 29. April 2021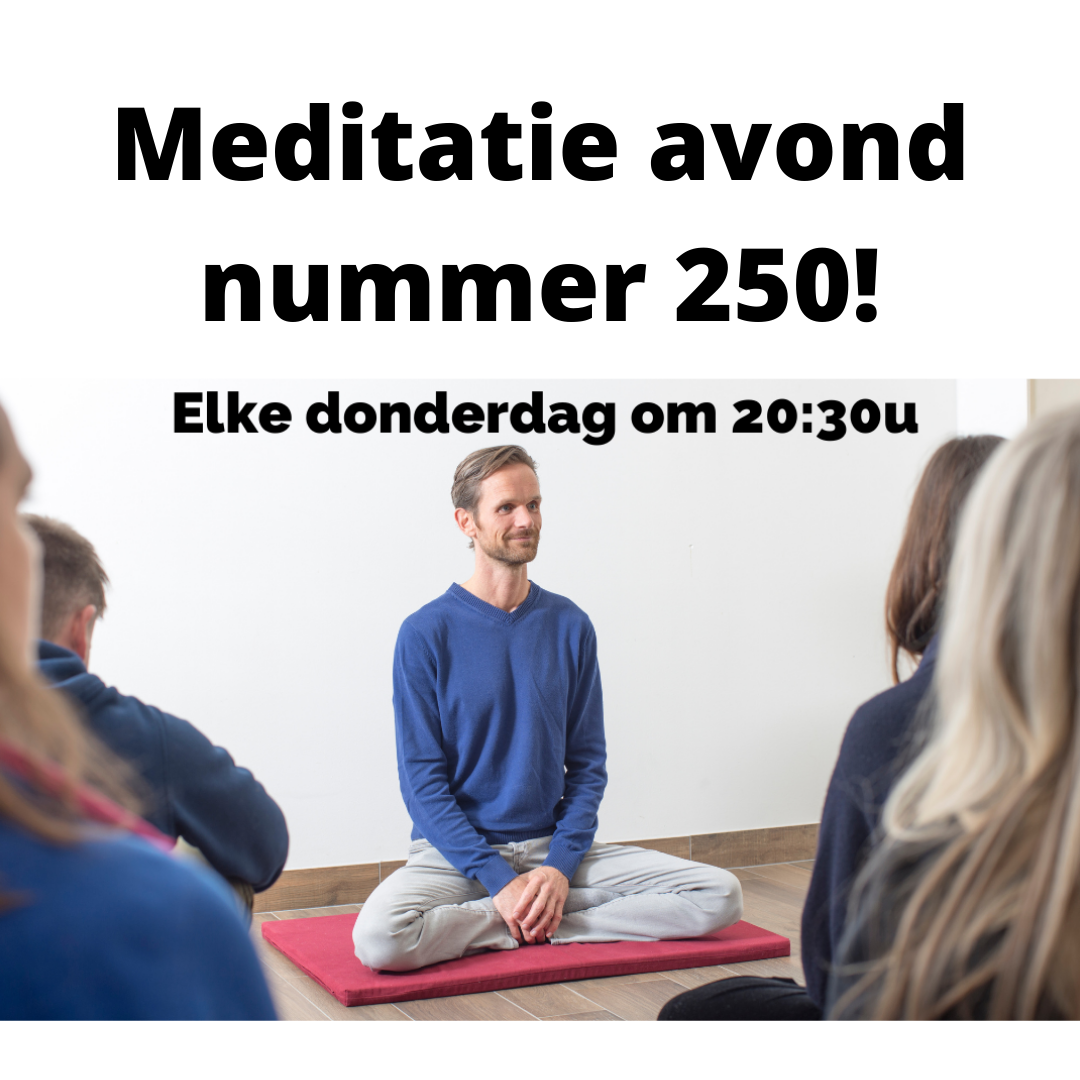 Through the years I gave several hundreds of meditation trainings and today was the 250th edition of my weekly meditation evening. With as much enthusiasm (but less nervousness and needed preparation) I still weekly sit in front of a group of people that want to learn meditation or deepen their skills.
Do you want to join the next edition? See the page Offer – For you in the menu above.
Sanity and recharge break for parents
Amsterdam | April 2020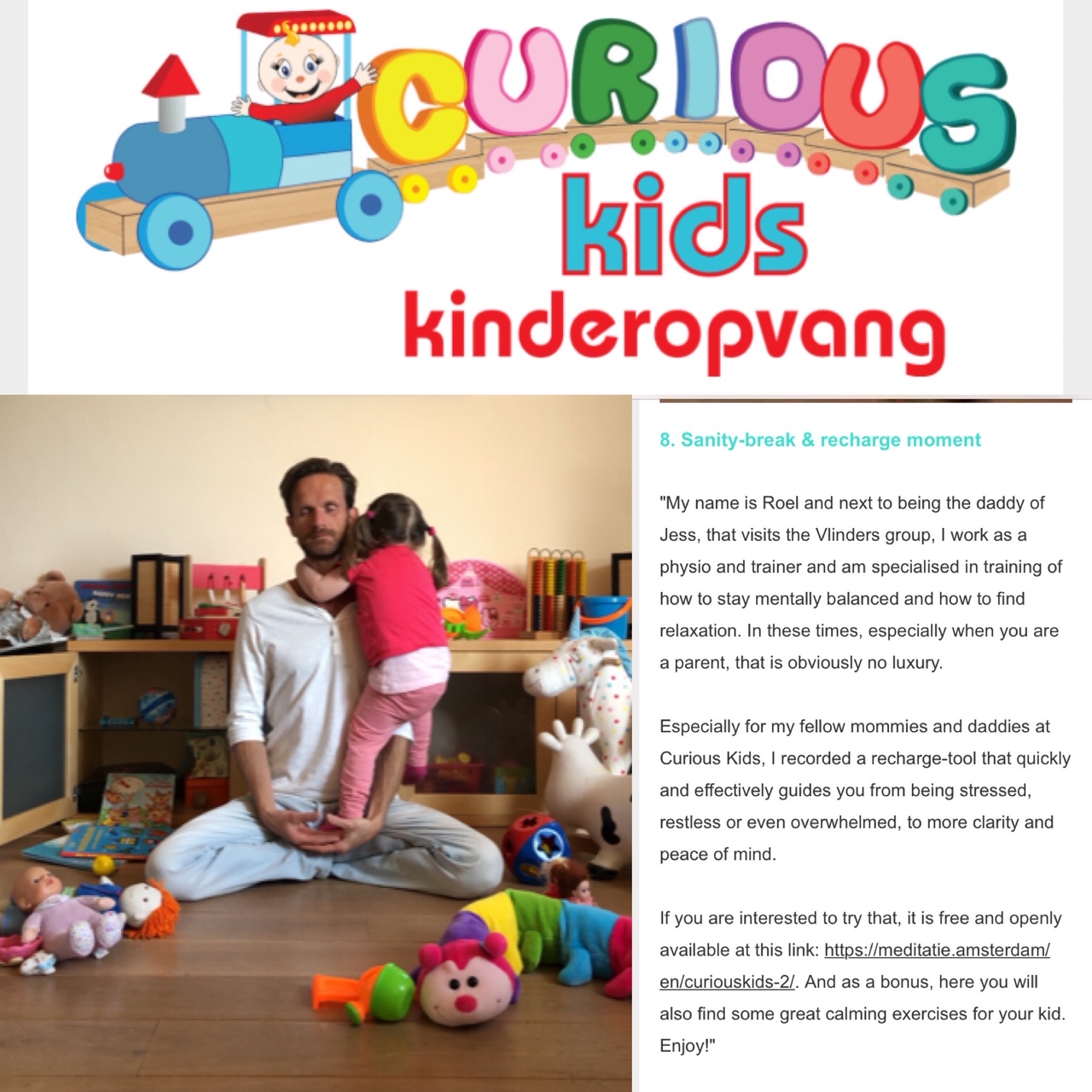 As part of my contribution in the Corona crisis, I also recorded a relaxation and clarity audio for my fellow parents at the daycare of my daugther and put that online. Here the announcement in their newsletter.
I hope it was useful for probably mainly the many parents that had to work from home in this period while the schools and daycares were closed.
The Corona meditation toolkit
Amsterdam to the world | From March 2020 onwards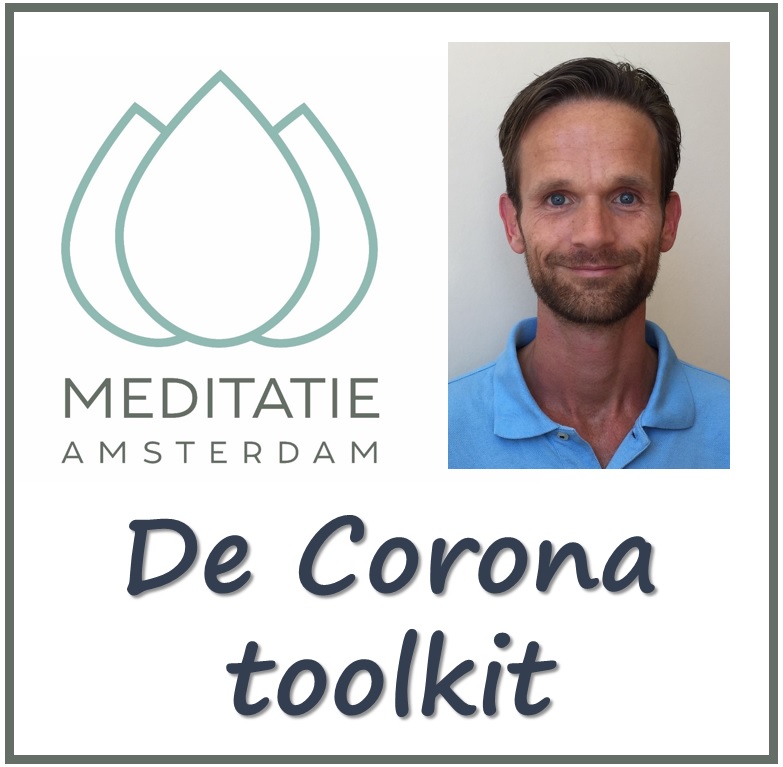 With the world wide Corona crisis, I wanted to contribute by making an online toolkit to help anybody that needed some extra mental (and physical) support. The toolkit consists of six trainings and guided meditations, in Dutch as well as English, specifically aimed at the different moods or states of mind people were in during this time.
From stressed to overwhelmed, from stable and wanting to work on the immune system to in bed with the virus and from parents to people that wanted to contribute and help others. Also for months I made my weekly meditation evenings freely accessible in this period.
Thanks to everybody that helped me to spread the message about this program.
Workshop stress management and the role of meditation in that
Hogeschool van Amsterdam | November 2019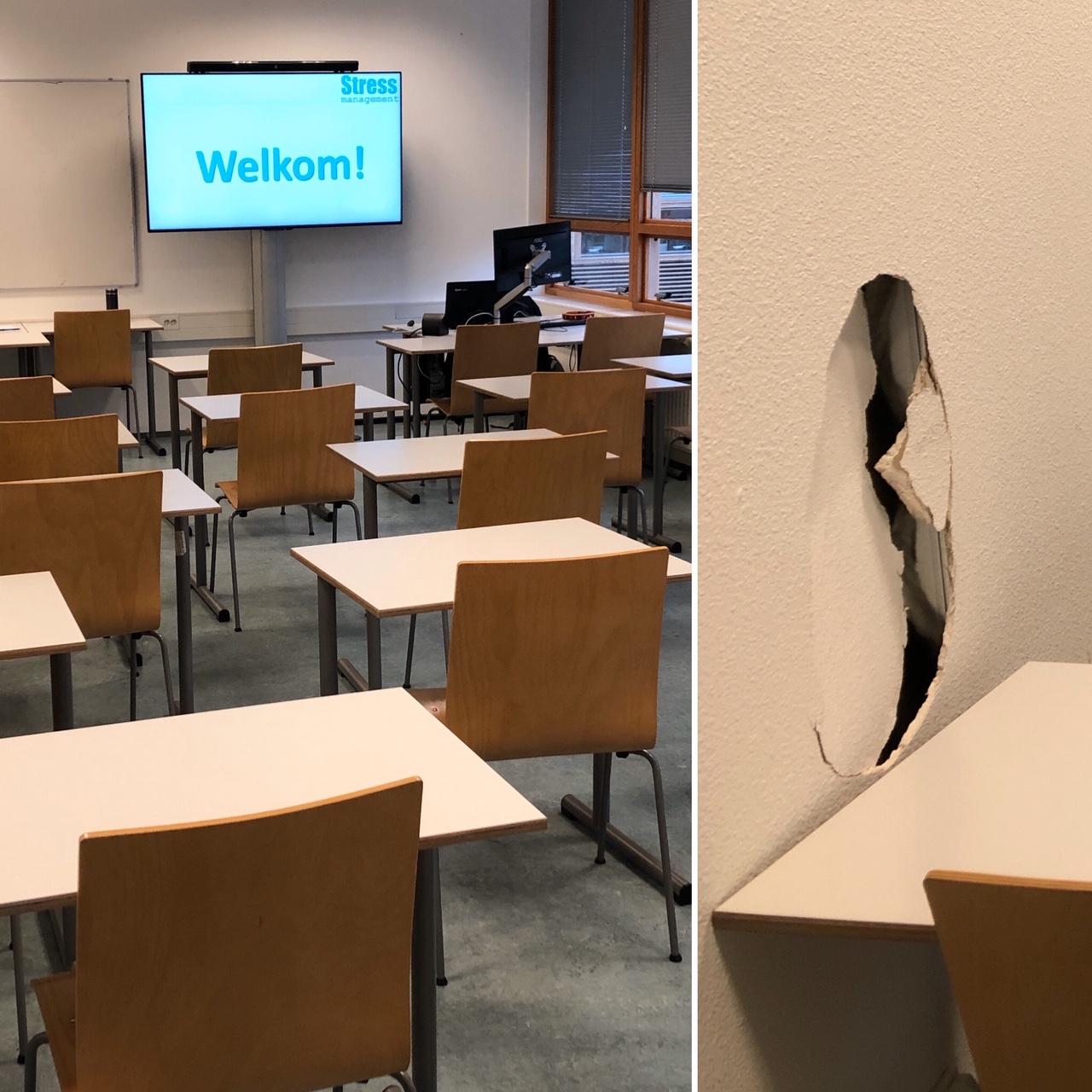 Again trained 150 first year students, divided over six workshops, in how to deal better with stress and introduced them to meditation.
Still a subject that they know hardly anything about, but something that is strongly getting established in the business world they will be working in soon. And something that can help them with their study results right away. Or their frustrations within school, the presence of which is indicated by the wall in the room I gave my workshop…
Retreat Optimising your energy level
Enkhuizen | November 2019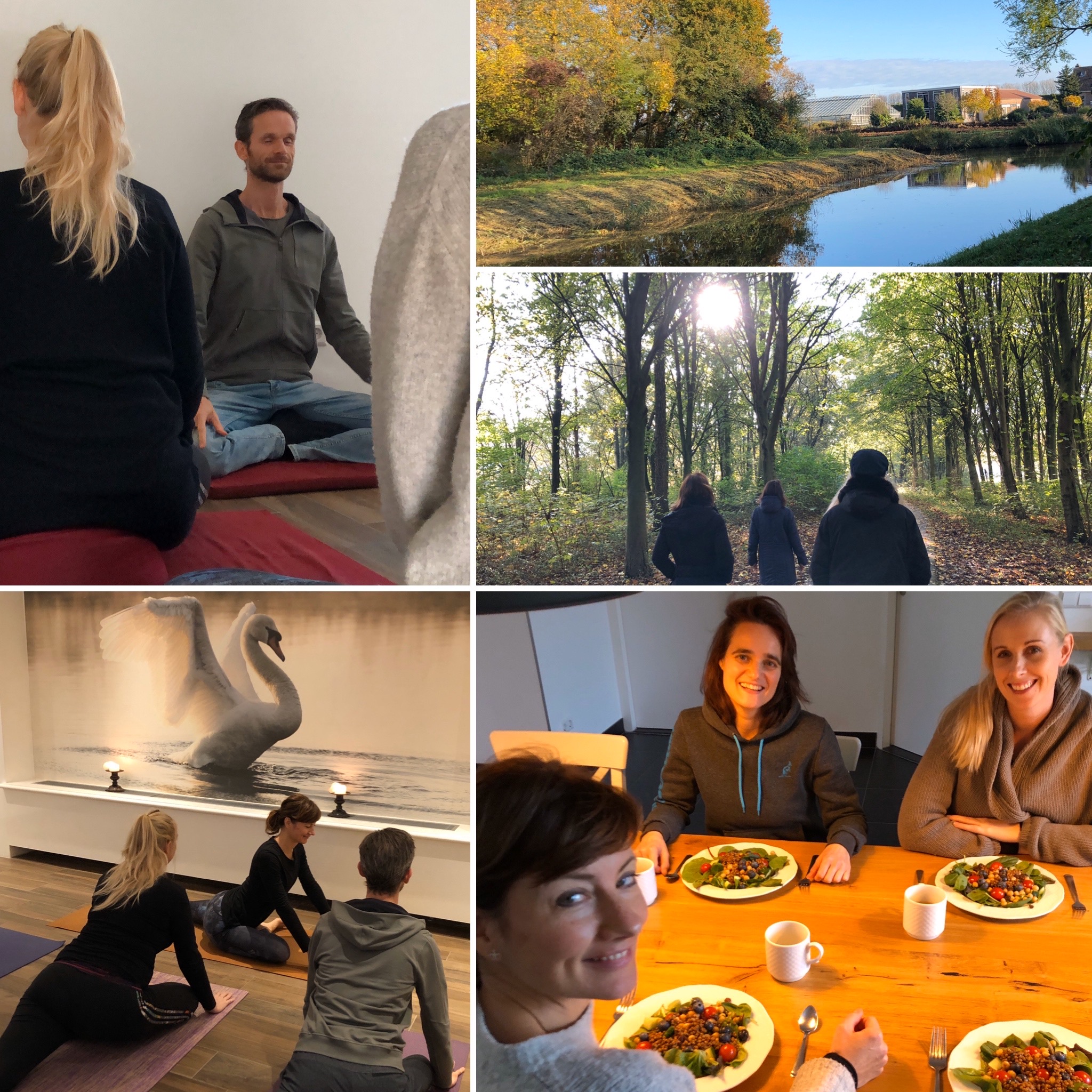 With a great group of enthousiastic people we went on a weekend retreat in Enkhuizen. In a beautiful villa close to nature we enjoyed yoga, healthy food, silence and of course meditation.
Also my third retreat number was great experience for me and according to the feedback I got, as well as for the people that attended it.
Workshop stressmanagement and role of meditation
Hogeschool van Amsterdam | September 2019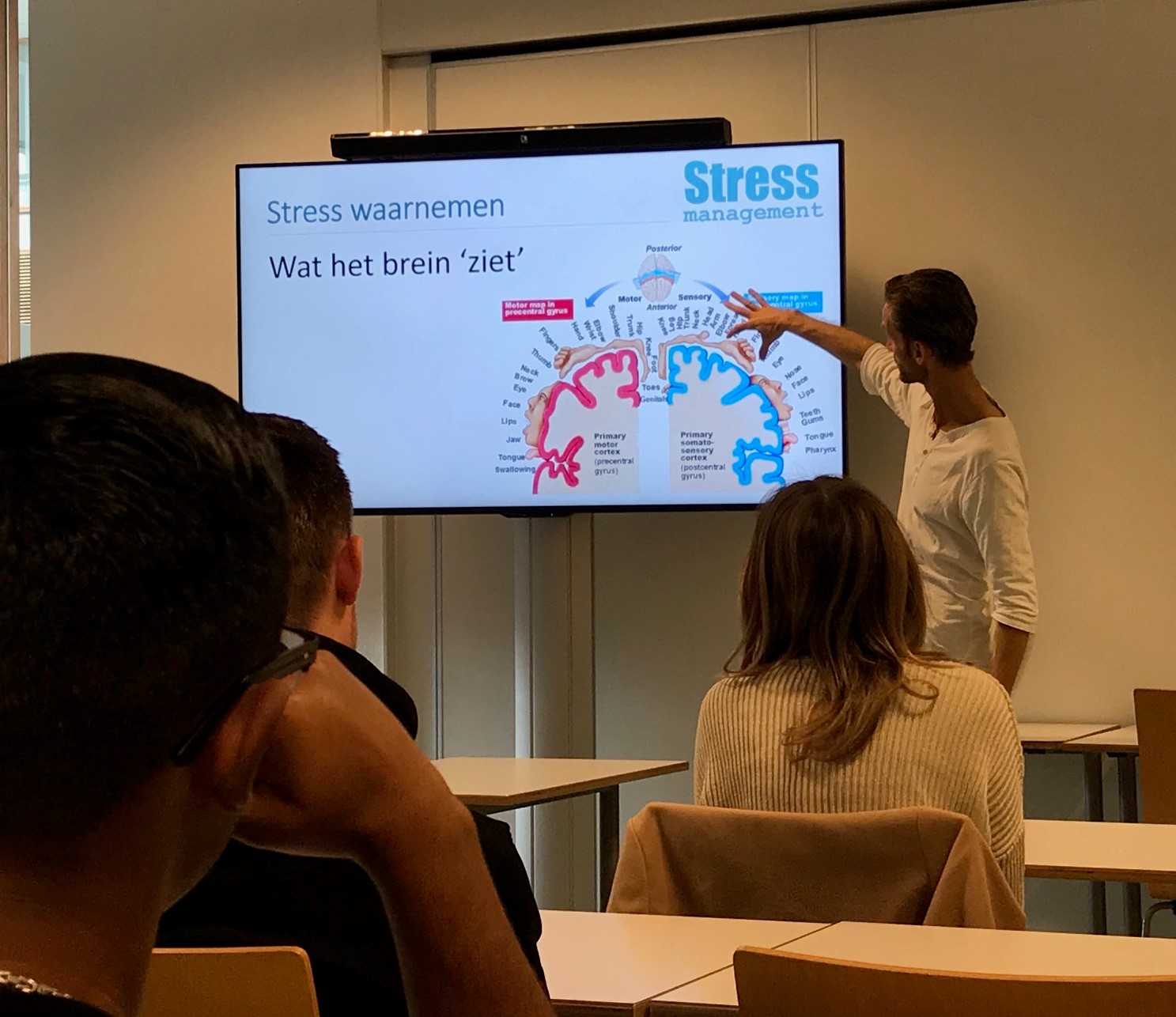 Also this year I gave six workshops about this subject to around 150 first year students of Finance and Accounting at the Hogeschool van Amsterdam.
Very nice to do and to receive the positive feedback of the students that participated.
Workshop Dealing with Stress and Meditation
World Fashion Centre Amsterdam | September 2019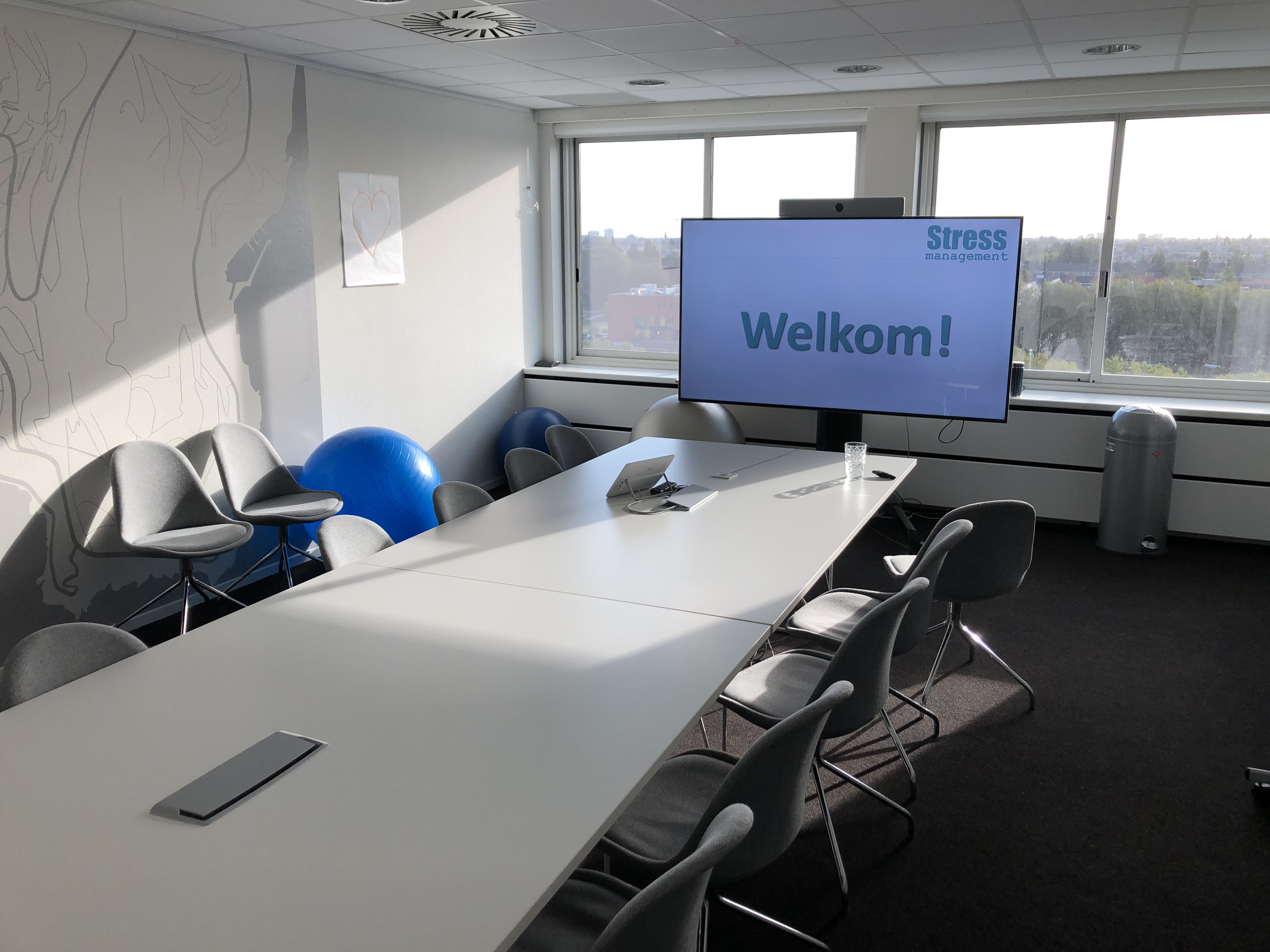 A well received workshop for the enthousiastic team of VeePee in the World Fashion Centre in Amsterdam.
Nice vibe and working in a room-with-a-view!
Start of the Meditatie Amsterdam podcast
The World Wide Web | Mid September 2019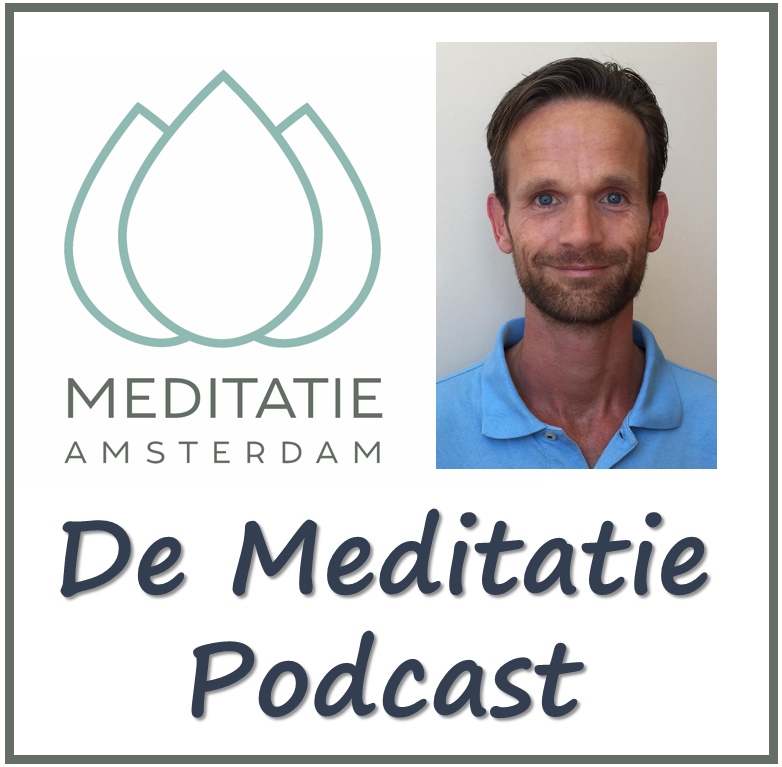 Halfway September my podcast went live! Here I post an episode twice every month with guided meditations and explanations about how to meditate and handle the obstacles that appear during the practice.
Episodes are in Dutch or English and often live recordings of one my training events.
Workshop 'Meditation, your daily mini holiday'
Lululemon Amsterdam | August 2019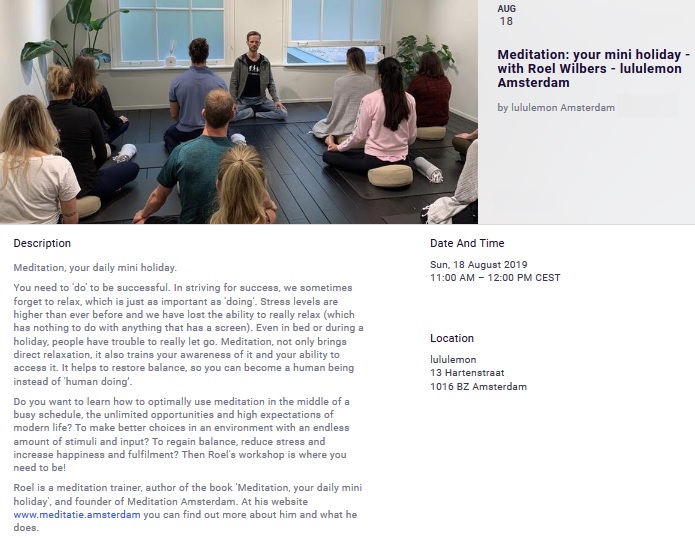 The sportsclothing brand Lululemon makes that people can feel optimal during their sport activities. They focus on sport instructors, runners and yoga and also have an eye out for the mental side of things.
On a regular basis they organise workshops like yoga, Tai Chi and meditation at their beautiful location at the Hartenstraat in the 'Negen Straatjes'.
After the succesfull workshop last month, a new edition and this time about how meditation can help you to find the balance between mental performance and relaxation and how the 'doing' took over our lives without us being aware of it. Had a great time with an enthusiastic group of people!
Workshop Meditation
Lululemon Amsterdam | July 2019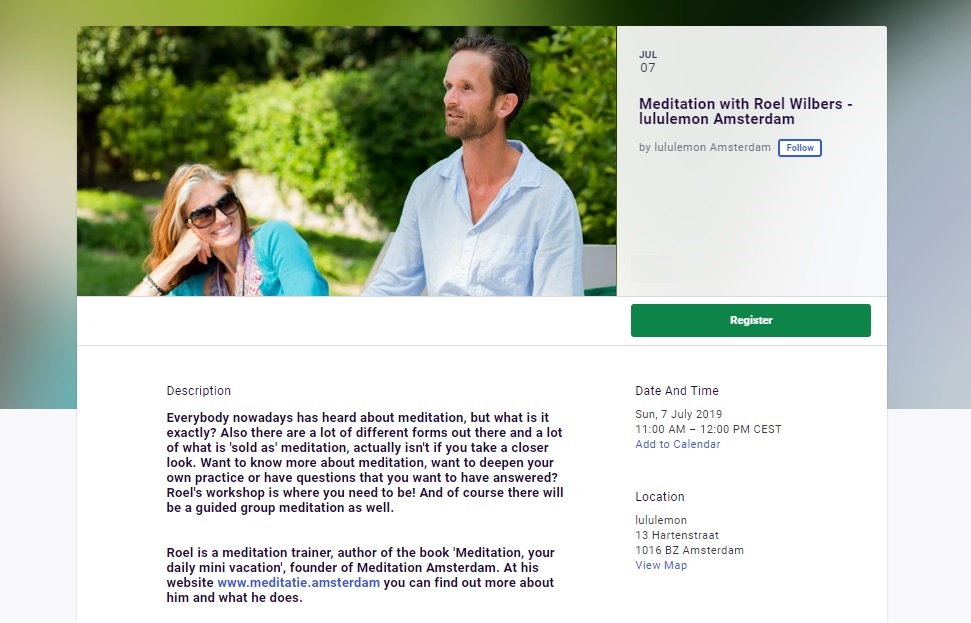 The sportsclothing brand Lululemon makes that people can feel optimal during their sport activities. They focus on sport instructors, runners and yoga and also have an eye out for the mental side of things.
On a regular basis they organise workshops like yoga, Tai Chi and meditation at their beautiful location at the Hartenstraat in the 'Negen Straatjes'.
For this edition they invited me to do a workshop about meditation for an enthousiastic group of people.
Workshops meditation International Yoga Day 2019
Sento Amsterdam | June 2019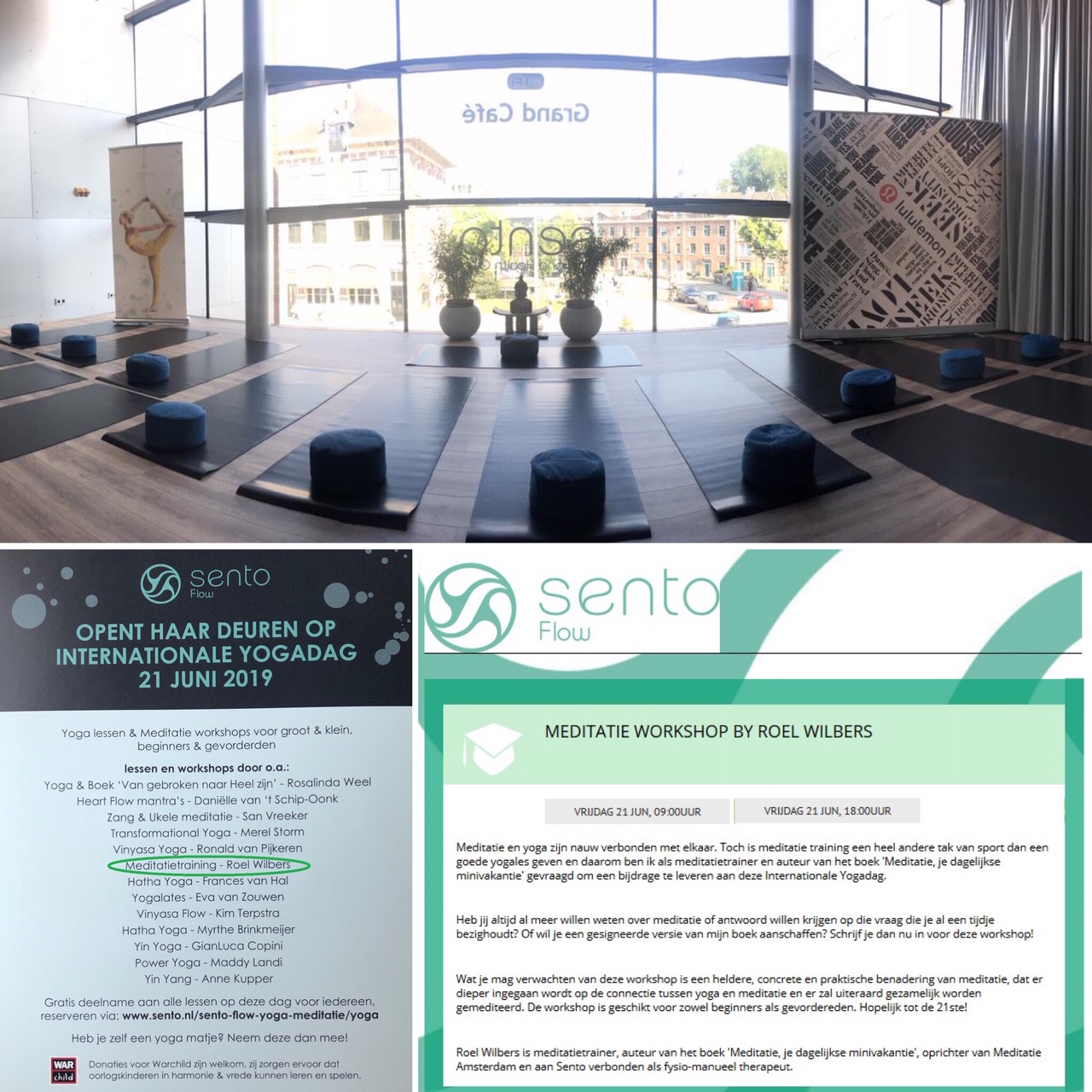 Sento requested me to organise two workshops about meditation on the International Yoga Day 2019, alongside the workshops of some well known yoga teachers.
Although meditation and yoga are closely linked, they have their own area of expertise and skills. A lot of yoga teachers give meditation exercises in the classes, but are they actual meditation? This and more were the subjects in these workshops.
For the answer to the questions above and more about the relationship about yoga and meditation, read my blog (in Dutch) about it.
Retreatday
Amsterdam | 16th February 2019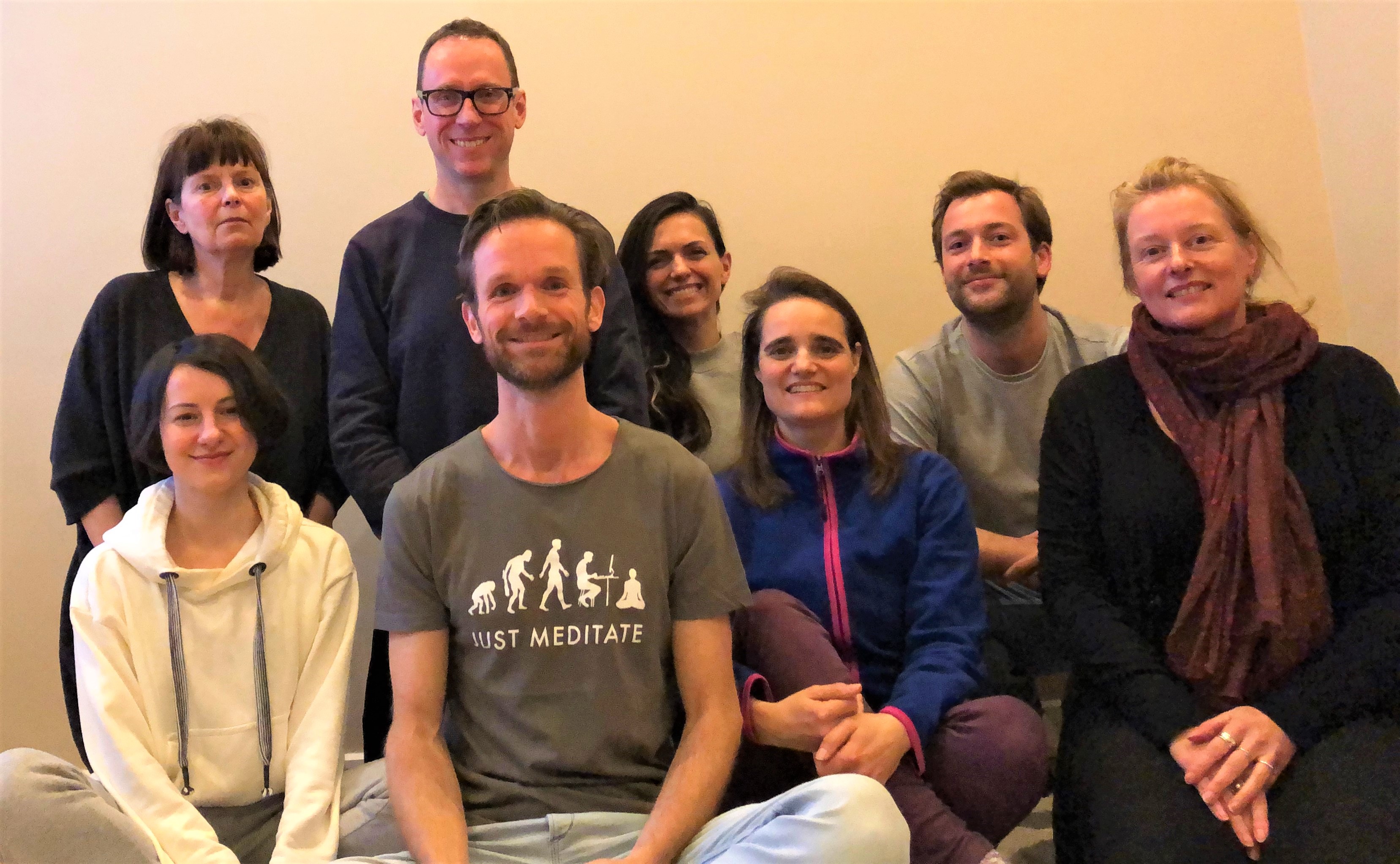 A day full of meditations and silence to come to an optimal recharge and relaxation and a deepening of the meditation skills.
A very nice and inspiring day with a small group of people that attended my classes for some time already.
Workshop Dealing with Stress (and the role of meditation in that)
Vente-Exclusive - Amsterdam | January 2019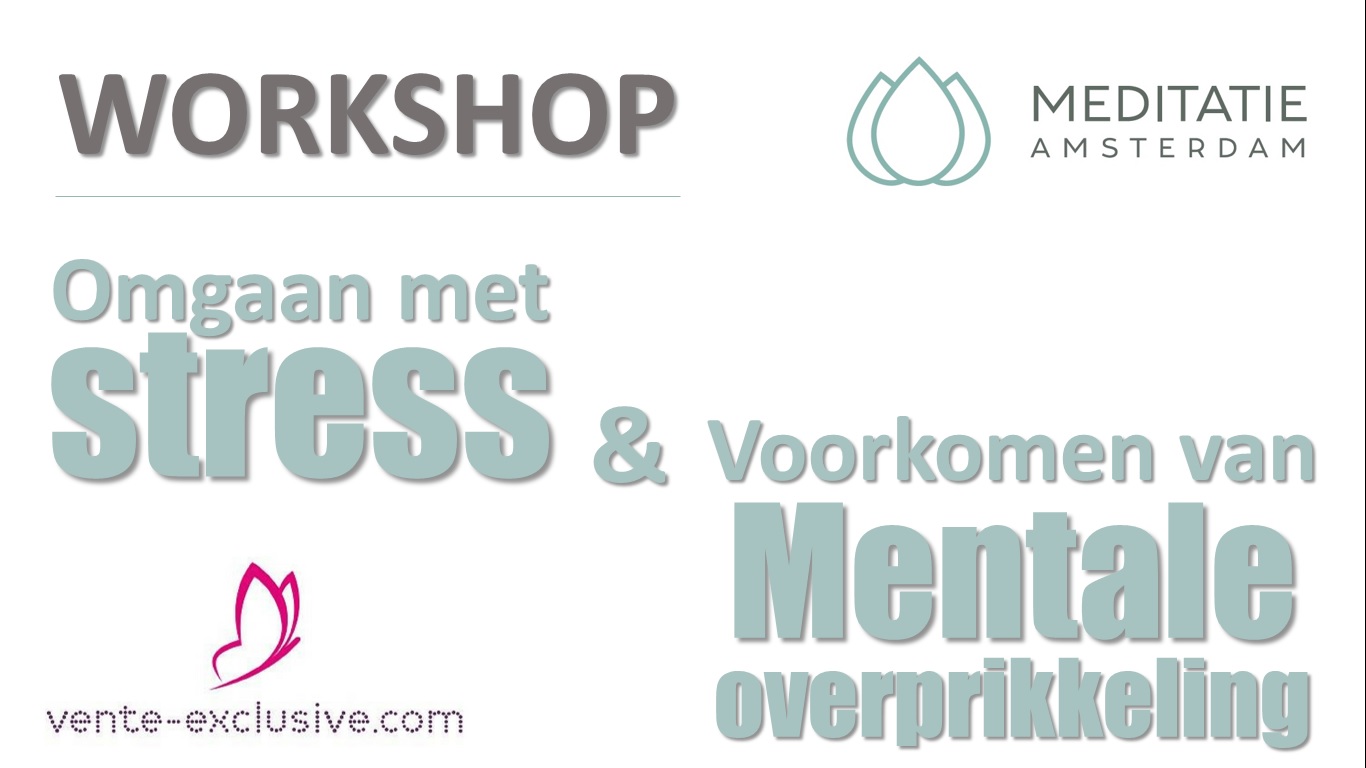 A very pleasant and well received worskhop for the ladies of the online merchandise team as part of their team building day.
Workshops Dealing with stress (and how meditation helps with that)
Hogeschool van Amsterdam | September and December 2018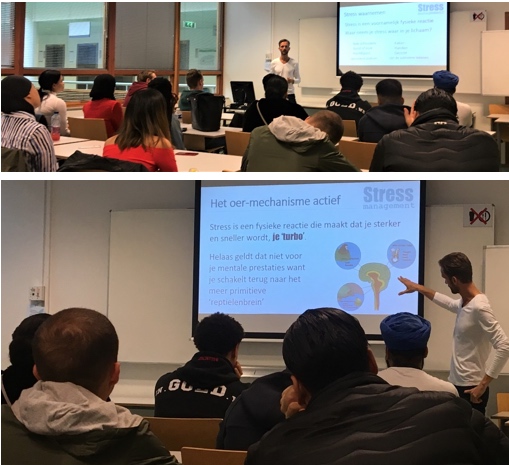 Stress and burn-out problems are growing problems nowadays, not only in the business world.
The HvA asked me to give a training about that for this vulnerable group, which lead to 16 workshops of an hour for more than 300 first grade students at the HES.
Really special to do and to work with this nice group of people.
Workshop Meditation for people with cancer
Amsterdam | November 2018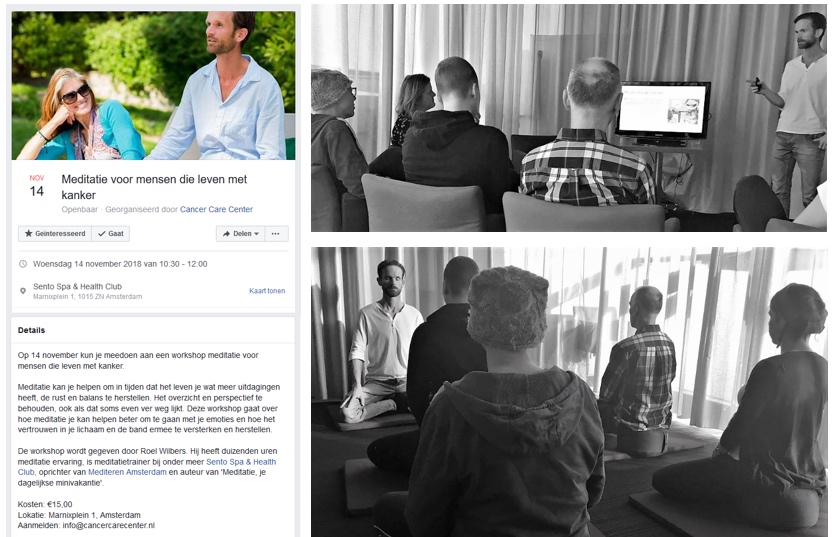 In collaboration with the Cancer Care Centre Amsterdam I made a workshop for this special group of people.
Having the diagnosis cancer it often is a huge challenge to find or maintain peace of mind and balance. Your life is turned upside down and how do you keep clarity and perspective when this seems far away and there even doesn't seem to be a future at all anymore?
This workshop aims at how, in times of strong emotions and insecurity and an unstable health situation, to find balance and to restore the connection with and trust in the body.
Retreat Restore Your Natural Rhythm
Enkhuizen | October 2018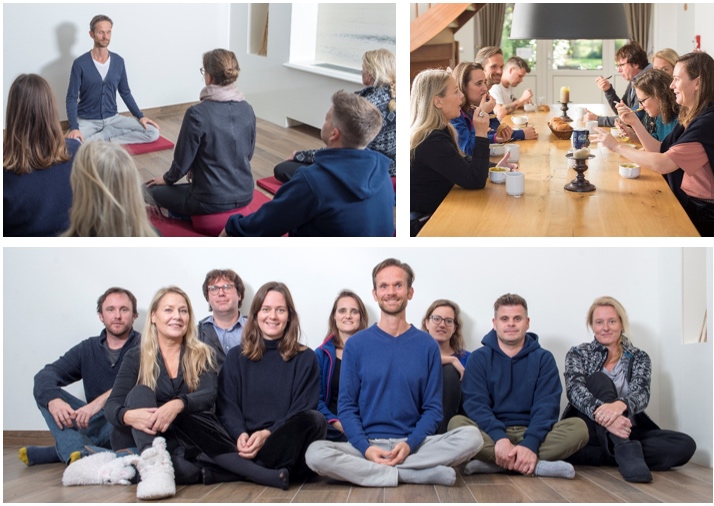 My first real solo retreat!
With a wonderful group of people in a beautiful villa in Enkhuizen, situated next to a forest, we dove into meditation for a weekend.
The participants all noticed that the effects of the 48 hours of explanations, reflection, cosiness and of course a lot of meditation, were still present days after and it brought them structurally ahead with their own practice and life in general.
Podcast Guest in the Ferdinand Lie Show
Amsterdam | August 2018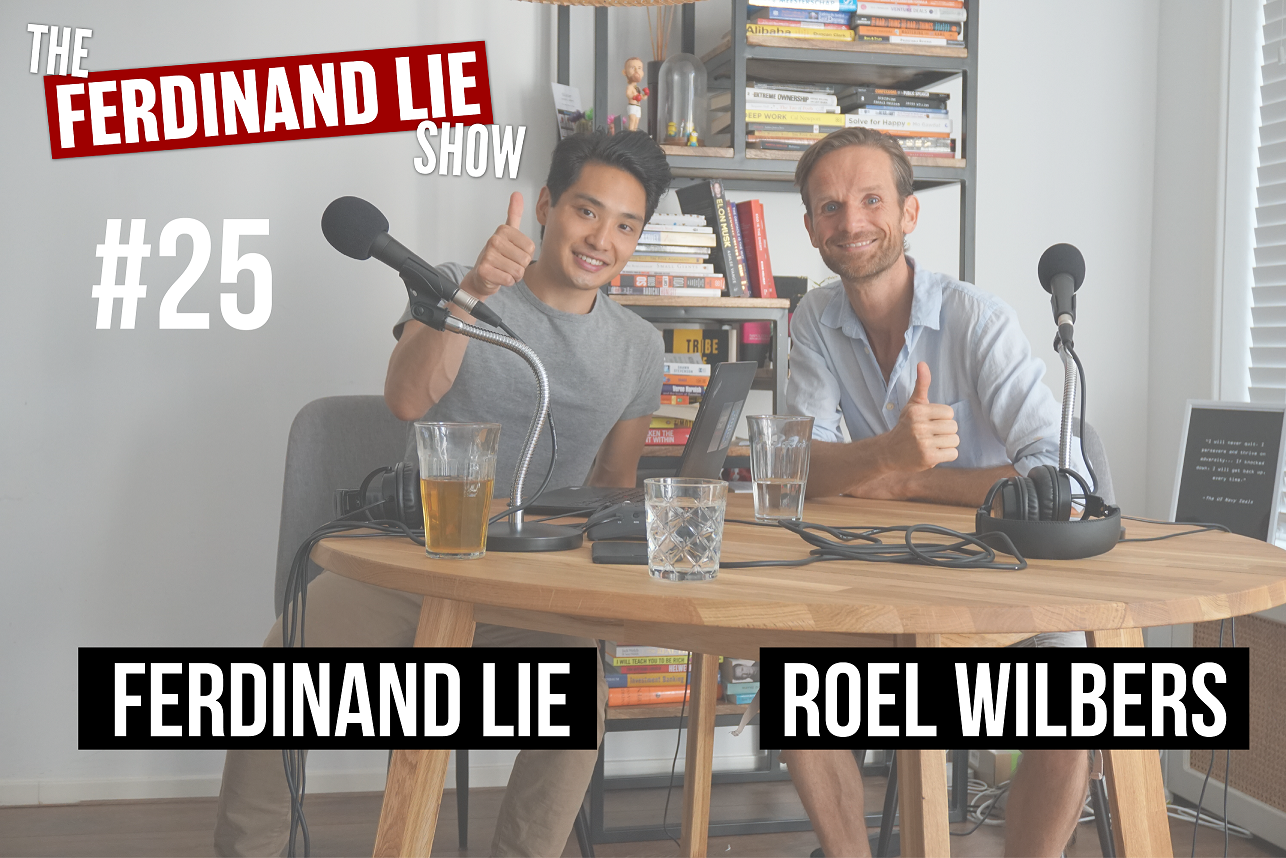 Ferdinand interviews people that are enterpreneurs and innovators and add something beautiful to the world and I had the honor of being his guest for episode 25.
It turned out to be a great conversation about the multiple facets in how I work and meditation has an important role in that. The link to the interview you can find in the About Me page.
Extra weekly meditation evenings
Sento Amsterdam | May 2019 until February 2019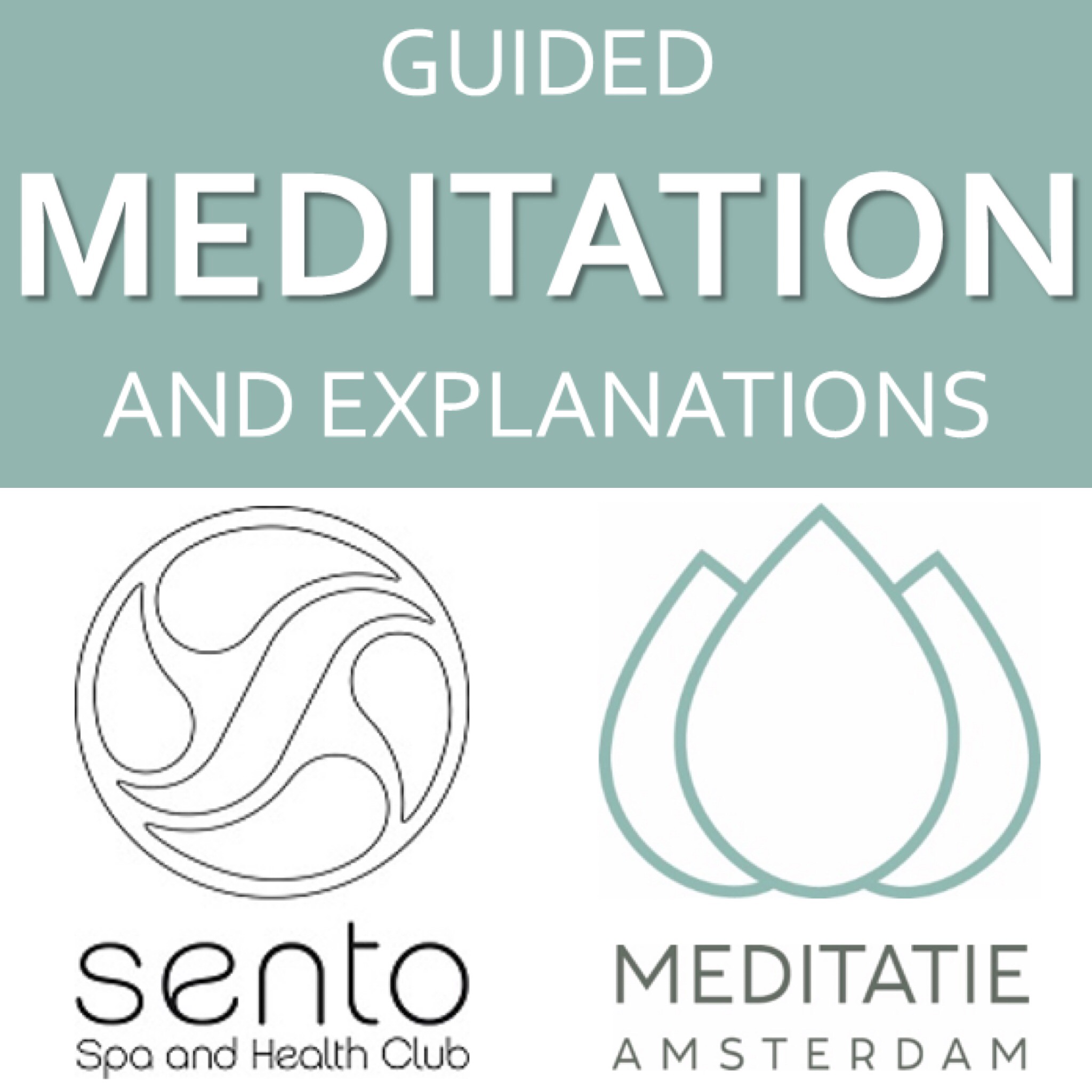 Besides my regular weekly meditation evening, I also gave meditation evenings at Sento for the biggest part of 2018.
A nice co-operation in which also people with a OneFit membership could participate, but after which I decided to resume giving my training only from my own company again.
Create Your Dreamlife retreat
France | May 2018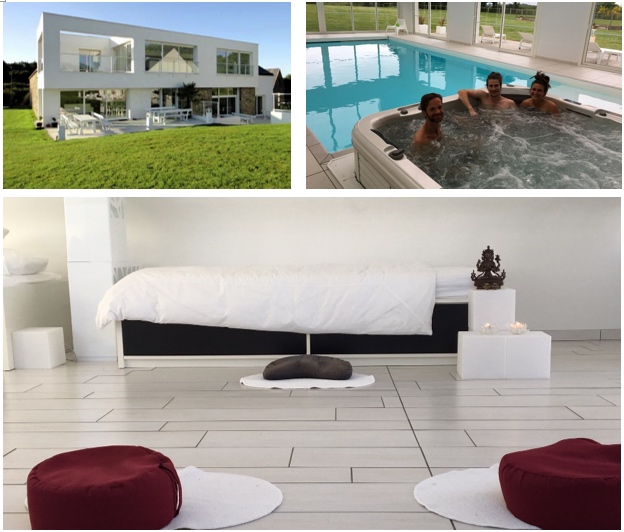 Together with Jamie, this was the first retreat I (co)organised.
In a beautiful villa in the French Magoar and with beautiful people we had an inspiring week, where I gave multiple meditation sessions a day of the top floor.
The sessions in the jacuzzi were most popular though…
Release of my first book
Amsterdam | December 2016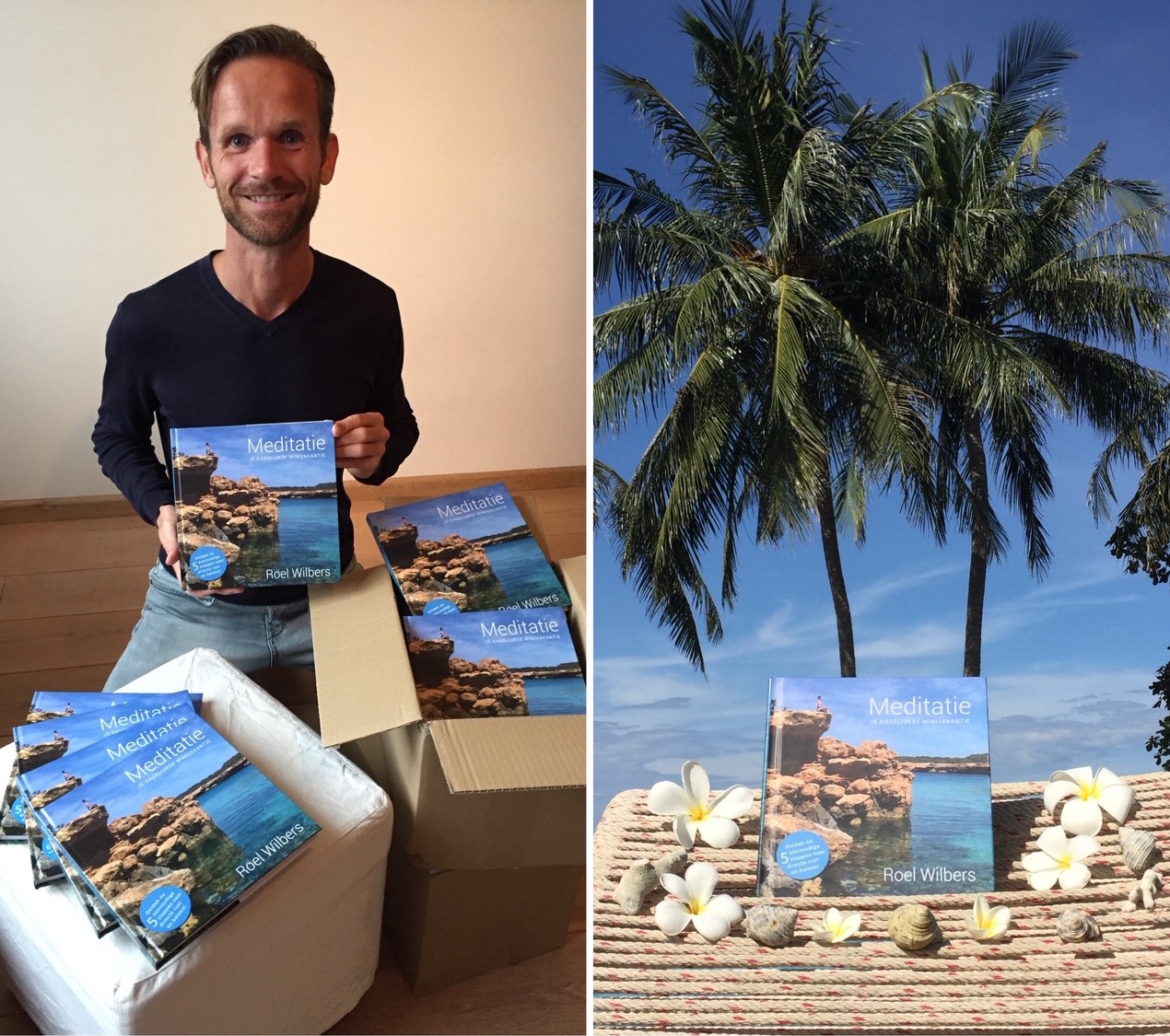 With 'Meditatie, je dagelijkse minivakantie' my first book came into this world and I am very proud of what it became. The writing and release of a book is a lot of work and the result of all of that is very worth while.
With a lot of thanks to all that contributed and with that mainly Door for her editorial advice, Sanne for the cover design, Sandra for the internal design, Wout and Gé for actually making it into a paper version and above all Jamie for all the support during the whole process.
Workshop Meditation for the Crisis managers from Slachtofferhulp Nederland
Central Netherlands | October 2016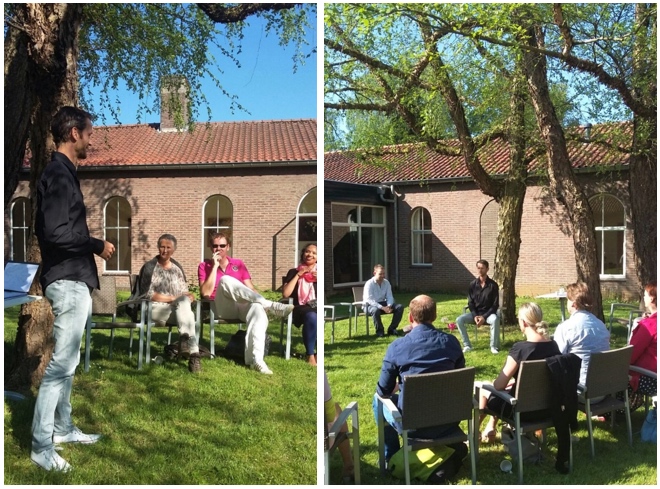 The crisis managers from Slachtofferhulp have to be able to keep their calm and peace under extreme circumstances and have to be in control over their emotions in those moments.
Meditation trains this more than anything and it was great to help these people, that do such important work, to attain a tool to keep themselves mentally in optimal shape.
Meditation at the workshops of Jamie Vousten
Amsterdam | September and October 2016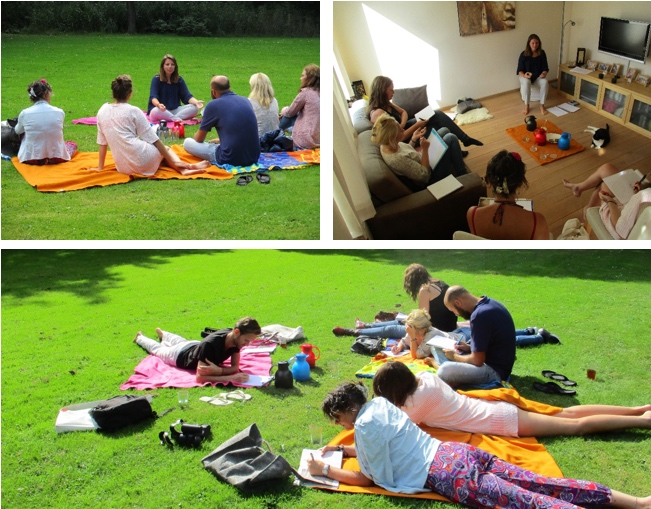 As part of the program of Jamie's one day workshops, I guided the meditations in a relaxed setting. Meditations that had a connecting and deepening effect in between the teachings that Jamie gave.
Fun days with nice groups of people and inspiring teachings from Jamie.
Open meditation evenings
Amsterdam | since September 2015

At the request of the participants of the workshops, that wanted a follow up, I started organising my meditation evenings in September 2015. Since then I have an open meditation evening on a weekly basis where beginners as well as more experienced meditators can attend.
The evenings are partly a guided meditation and partly explanations or the answering of the questions that people have or occur during the meditation.
Meditation workshops as a fundraiser for Nepal
Amsterdam | May 2015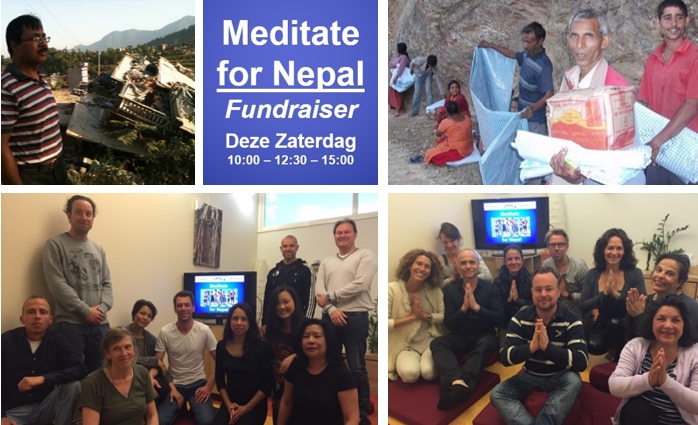 I already organised meditation workshops on a regular basis, but this one was special. After the devastating earthquake in Nepal in 2015, I started a fundraiser to raise money for the people that were without homes and food. Nepal has a special place in my heart. It is not only the place I started meditating, I also visited it several times for volunteer work.
Also it is where my 'Nepalese family' lives and I stay whenever I am there. They made sure the money we collected over the three meditation workshops (over a 1000 euros) was given to the people in need in a small village just above capital Kathmandu, without interference of organisations where the people that work there have to be paid as well. I am still thankful for the over 30 people that joined the workshops that day and contributed so generously.
Meditation course
Amsterdam | February-March 2015

My first full eight week course, which was attended by nine enthusiastic participants.
In weekly sessions of two hours they got the basis and backgrounds of meditation and there was of course a lot of room for the practice itself.
The participants were unanimous afterwards: it was a 'gezellige' and more than useful course.
Yoga-meditation retreat
Amsterdam | January 2015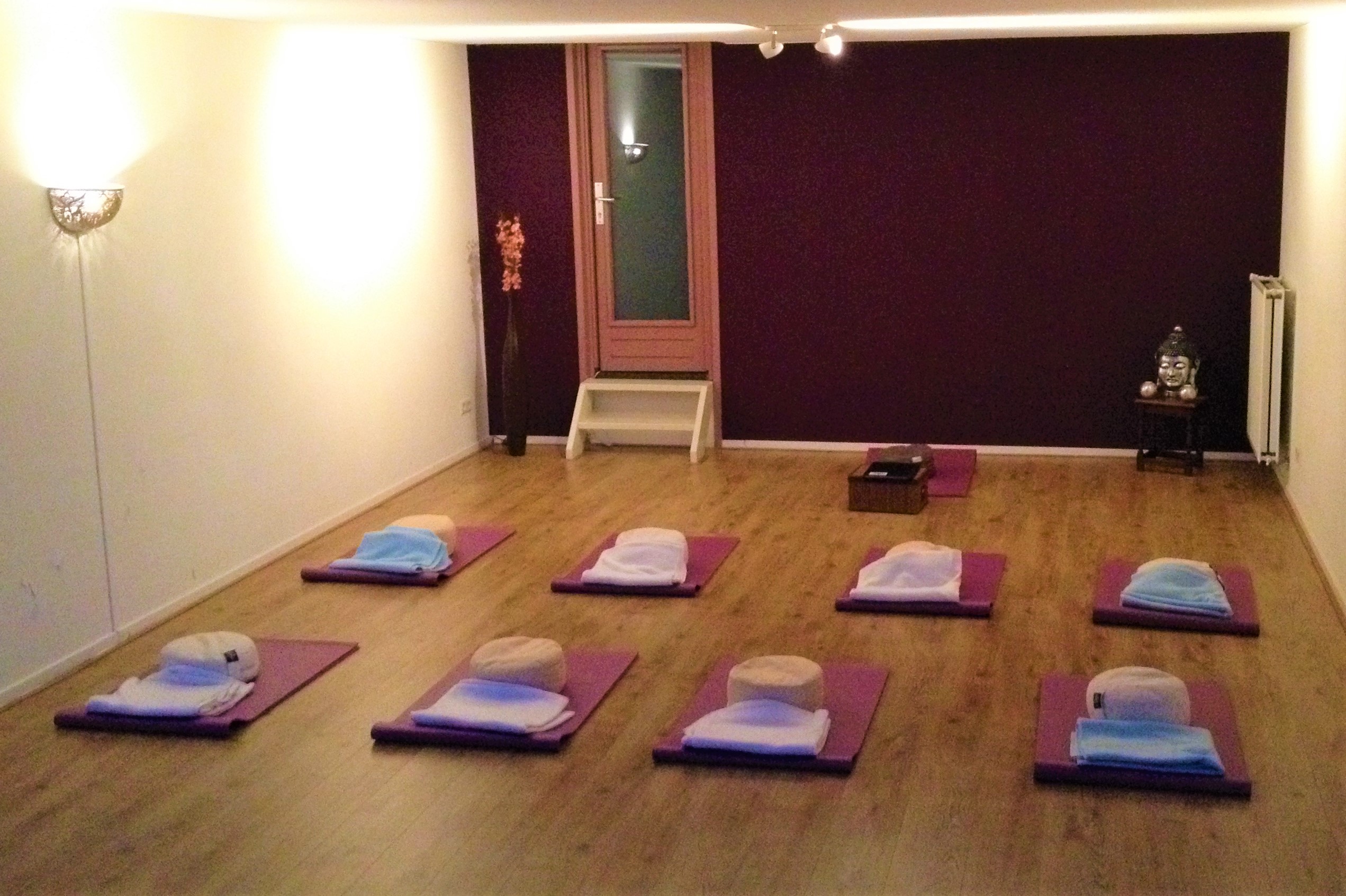 Together with yoga instructor Roos I organised a retreat day that was built around meditation, yoga and healthy food.
Eight people that wanted to give their year a fresh and clear new start, all gave us the feedback that they had a nice and inspiring day. The meditation part were lectures and practice sessions.
The first workshop, where it all started
Amsterdam | February 2014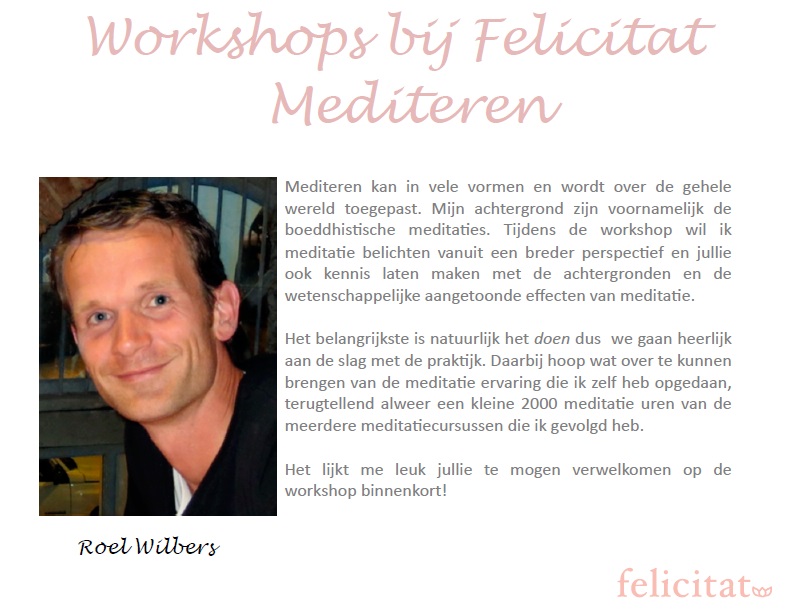 More and more people around me started asking me about meditation after they saw the effects that it had on me so clearly.
Eventually it was my dear friend Eva that asked me to organise a workshop for her students at Felicitat. That was the start for my own workshops, that I give on a regular basis since that day.
Testimonials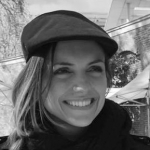 Janna (29) from Amsterdam
Program manager
The one-day meditation retreat was great and left me full of serenity and more space. We did several types of meditations throughout the day, with Roel kindly guiding us along the way. He is a great trainer and can really help you gain new insights and improve your practice.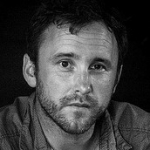 Keef (41) from Amsterdam
Photographer
With Roel's approach and guidance I've come away from the evening sessions that little more connected and more composed. These sessions have helped me to slow down, and that by making time to mediate is just as important as any other part of my life. Roel has been a great help in helping me to make mediation part of my routine.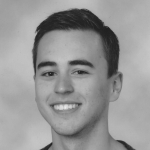 Sander (21) from Amsterdam
Student International Business & Management Studies
Thanks to Roel's training Stress Management, I got new insights in how I can handle certain situations better and did I learn techniques that help me to achive calmness in stressful periods. I was happily surprised with the result and experienced it as a super interesting and informative workshop. Also my questions afterwards were answered completely.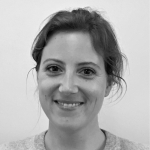 Jessica (33) from Amsterdam
Asset manager
For his retreats Roel collects nice groups of people and that he also puts energy in making a well fitting program and finding a good location, is clearly visable. Roel brought us a variety of meditations during the retreat and because also the meals and all other things were very well taken care of, I could really let everything go during the weekend. Absolutely something to do again!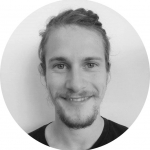 Simone (25) from Zurich
Physiotherapist and dancer
A workshop with Roel is not just learning about meditation, he gives you the tools to practically implementing what you learn in your life. After my first workshop my life looked different than before and it still looks different now. He has a unique way of teaching and explaining, very clear, easy to grab and approachable for the most different kind of people.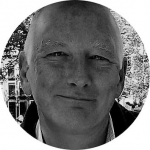 Arie (56) from Amsterdam
Language coach
In his clear and concrete approach Roel again and again lets me see where I tend to get distracted and lose contact with being conscious of what happens. He also taught me how to control my state of mind myself by using meditation. I regularly visit his open meditation evenings and each time it brings me closer to the essence of meditation and with that myself. Meditating in a group and with Roel's guidance, tips and answers to our questions, deepens my meditation practice. I can clearly notice how this benefitted me in several areas of my life.