Meditatie Amsterdam doesn't work with all organisations.
We want to contribute to a healthier and better world and therefore only work with companies that have a sincere interest in sustainability and contribute through their services and/or products in a positive way to society and the planet. Although meditation undoubtedly will have a positive contribution here, we do not team up with, among others, companies that produce alcohol, soft drinks and tobacco products, fast food concerns and organisations in the meat and dairy industry.



A solution for the challenges of the present times
Modern business is challenging and demanding. Stress is professional disease number 1 for many years aleready and the demand for mental performance as well as the expectations and pressure confronting the modern-day worker, are probably bigger than ever. At the same time the moments for relaxation and recovery become more scarce. Not only at work, also ouside of business hours.

Meditation not only helps with increasing stress resistance and the recovery of stress or burn-out problems, it also increases productivity and to come to mental top performance.
Meditation does for the mind what sport does for the body; it makes it stronger and more flexible. It improves mental capacity and gives the brain, the most used organ in the body, time to relax and recover. The statistics show that this is no luxury these days.



What do the statistics show?
– Data over 2016 from the doctors that work for businesses show that 42% of all reported occupational diseases was psychological, which indicated a further rise. The problems due to stress were already 1,5 times bigger than problems in the joints and muscles and stress and burn-out had the biggest share in that (74%). These are data over the total occupational population. For professions with mainly mental work the percentage psychological diseases was a lot higher, for the financial sector even around 95% (Data from the Dutch Centre for Occupational Diseases 2017). For 60% of the psychological diseases, sick leave was thereby longer than three months, what 4 years before was 'just' the case for 50% of them (NCVB 2013).
– In 2016 more than 1 out of 7 employees experienced burn-out problems. That was mainly the case for employees between 25 and 35 years old. Here it was experienced by 16% of all men and 18% of the women. (Data CBS/TNO). Four years earlier the most represented group for burn-out was a lot higher: for men between 51 and 60 years old and for women between 41 and 50 years of age (NCVB 2013).
– In 2017 16% of employees (15 to 75 years old) rapported to feel mentally fatigued at least a few times a month due to work, what in 2015 was 13% of the employees. Also here the biggest group was in the ages of 25 to 35 years old: here 19,5% experienced that, where two years before it still was 15% (CBS 2018). Among students these numbers are even higher (see here).


The tendency of an increase of the psychological occupational diseases like stress and burn-out, mainly under the relative younger employees, showed itself already in previous years.
– Research by CBS in 2014 showed that 2014 was the first year in history that stress and mental health problems caused more unemployment than physical problems. For people under 25 it was even 85%.
– According to data of the Institute for unemployement (UWV) end 2013, psychological problems were the most given diagnose with people given a fee for inability to work: half of them had a primary diagnosis a psychological disease and a lot of them was the result of severe stress.
– Because in 2014 more than 1 in 3 employees took sick leave because of stress, (also seen by the research agency TNO), stress was declared occupational disease number 1 by the Dutch government (Rijksoverheid 2013)
– Between 1998 and 2013 the amount of people unable to work because of psychological problems grew from around 30%, to almost 50%. Around 75% of that is due to stress. There were no indications for the inspection by the government that this trend would turn around. 'On the contrary: the Inspection found indications that currently there are several factors that increase the risc of psychosocial stress during work.' (Rijksoverheid – Inspectie Sociale Zaken en Werkgelegenheid 2015).
– The total amount of sick leave did not change much between 2009 and 2014, but the part caused by stress in 2014 was eight times higher than five years before (research under 1,1 million people by ArboNed).
– Sick leave because of stress lasted in 2016, depending on severity, between five and a half and eight months on average. There was a renewed severity of stress and therefore the length of sick leave over 2015-2016 (ArboNed).
– 'Because one day of sick leave costs 250 euro, it is important to recognise and handle stress and psychological problems in an early stage' (ArboNed 2016). That means a burn-out costs an organisation around 60.000 euro.
– 'Of the employees that recovered from sick leave due to stress, 28% will have to take sick leave again because of psychological complaints, mostly within twelve months' (ArboNed 2016).
In spite of this, most companies still aim for the physical interventions like massage on the workfloor or fitness memberships when it comes to increasing health of decreasing sick leave.



Meditation in business
Top performance and optimal business results come from a balance between a high productivity and a healthy workforce. Meditation increases both. Meditation helps them to perform optimally because it leads to:
Less stress
More stress resistance
Greater productivity
More concentration capacity
More creativity
More memory capacity
Faster working brain
Greater ability to stick to a task
Less distraction
Less errors
Quicker decision making
More information intake
More energy
Less fatigue
More entrepreneurship
Greater mental and physical health
Smaller chance of sick leave
Smaller chance of burn-out
All the here mentioned effects are backed by scientific research and also top athletes and military corps use it for greater concentration, efficiency and performance capacity when the pressure is high. Thereby doctors prescribe meditation like mindfulness to their patients with stress, burn-outs and other problems.
It is makes therefore complete sense that meditation is seen more and more within the corprotare world. Organisations like Apple, Google and Twitter have meditation trainers at work for their employees and people like Steve Jobs, one of the most productive and creative minds of the last decades, make meditation a daily habit.
Meditation is a concrete, clear means to better performance for the individual worker and the complete team. Because it brings the attention past all obscuring thoughts and feelings that automatically arise and it brings clarity to the things that actually happen, meditation is all but esoteric. It makes the world and perception of it as concrete and clear as possible. It's exactly this concrete feature of meditation that attracts higher educated people and the business world.



Meditation in your organisation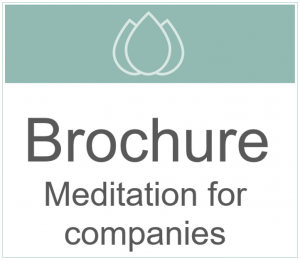 Meditation can also benefit your company in reaching optimal business results. It increases productivity and helps employees that cope with stress or tension, to come to a better health balance. This is the reason that it can also be used as part of a reintegration process to return to work (except in the case of mental disorders that need medical treatment). Just like in the gym, everybody can participate in one and the same session and work toward his or her individual goal. If that is re-integration to work or achieving mental top performance doesn't matter. In the end meditation within an organisation will bring wellbeing, mentally as well as physically, to everybody that attends.
Meditatie Amsterdam offers meditation in a concrete, clear and modern way within organisations, completely aligned with the dynamic and productive modern business.
Are you looking for a clear overview of what we do and meditation is and does for companies, or bring it under the attention of your employer? Click here for the brochure Meditation for companies by Meditatie Amsterdam.
Here you can find the Dutch version.
Request the free workshop for your HR department today to get to know who we are and what we do!