Audio's
There are countless meditation techniques available. You don't have to try them all. You just have to find one that works for you and deepen your practice with that one. Just like when you are looking for a sport when you want to increase your physical fitness. Development over how well you can control your mind is most likely to happen when you stay with one meditation and become experienced with one technique. You also don't weekly change the sport you do. Meditation isn't looking for entertainment for the mind, it is training it.
Guided meditations through audio are an great way to practise your meditation skills. Below you will find several of my meditations on audio. You will notice that the basis of the meditations are fairly simular and that the rest is mainly focust on a specific theme.
These meditations will give you a good impression of how I approach meditation and what to expect in my trainings.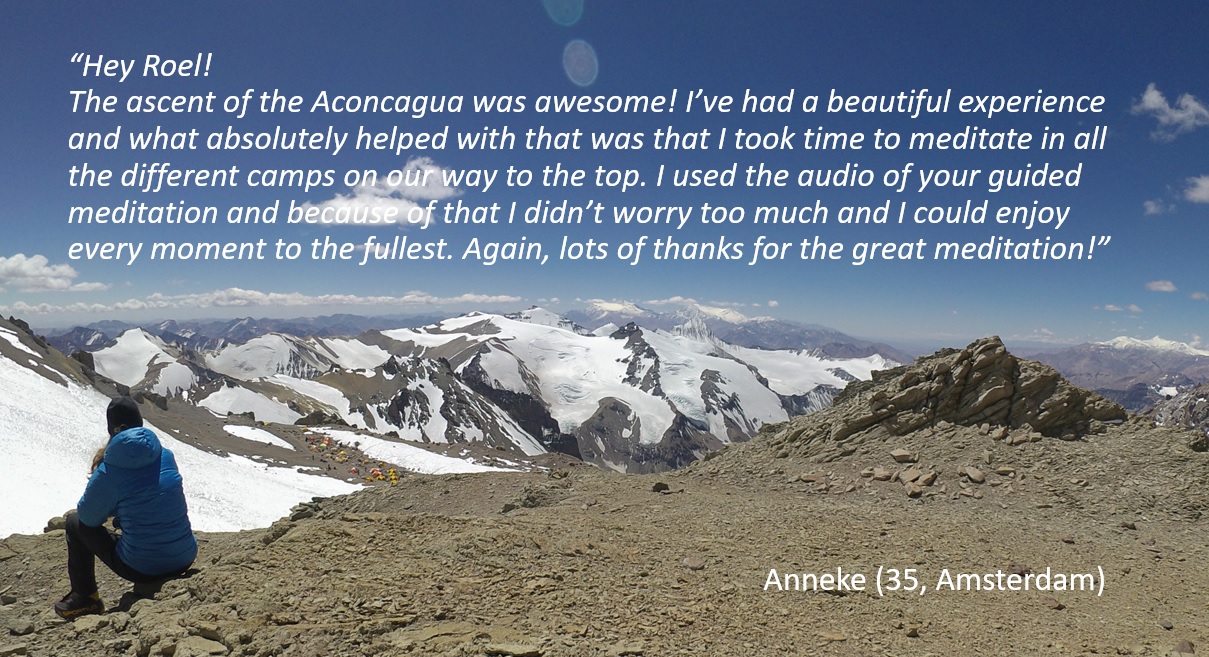 For more info about the use of these audio's for people with mental health problems, please read the disclaimer below the meditations.
Does my approach suit you? Nothing tops a live training and take a look at my offer for my next events.
Enjoy!



Meditation on the present moment
Duration: 11 minutes
Our attention is nowadays hardly present with the current moment. Especially during meditation sessions you'll notice how much activity there is in and around you and how quickly your attention is being drawn towards it and taken over by it. With as a result that spend a large amount of our time in thoughts and distracted from what is actually happening in the actual moment. Our thoughts take us to expectations, anticipations or worries about the future, or memories and the re-living of events in the past. That makes the mind restless and decreases the mental clarity.
This meditation brings the attention to the present moment and helps you to stay there better. You will notice that the being aware of and in the moment, where you let all that happens be for what it is, quickly leads to calmness, stability and overview.

Meditation for calmness and relaxation
Duration: 23 minutes
Mental relaxation and stress reduction are the most important reasons why people in our society (start to) meditate. Meditation is an excellent tool to relax and is effective as a 'relaxation paracetamol' when you need it in that moment, as well as a 'relaxation vitamine' when you like to have more structural relaxation in your life. The latter is where meditation is different from relaxation exercises or the most other forms of relaxation. It trains your capacity to relax and after a bit of practice you become more structurally relaxed, instead of needing a new dose of 'relaxant' every time again.

Meditation with surrounding noise
Duration: 21 minutes
Sounds are always and everywhere present and can influence your meditation in a negative way. But at the same time they are your training material during your meditation and no reason not to meditate when present.
This meditation helps you not only to deal with noise better when it is present, it even learns you how noises can help you to get into and stay in the meditation better andhow it bothers or distracts you less in your regular life.

Meditation on your energy level
Duration: 18 minutes
Of all the different things you can use to focus on during your meditation session, energy is one of my personal favorites, find out here that it is all but airy-fairy.

Meditation on the bicycle
Duration: 15 minutes
Meditatie is mostly done on a meditation pillow, but it's not restricted to that of course. You can even meditate on your bike. Here a guided meditation for meditation while commuting. This way you can transform your bike ride into training for the mind. Good luck and keep your eyes open during this one.

Meditation on the deeper layers of our consciousness
Duration: 23 minutes
Our consciousness has multiple layers and most people are only aware of the superficial layers where the 'every-day-turmoil' takes place. Because there it is so busy in our lives, it overshadows the deeper layers. Underneath there is calmness and stability though, just like the deeper layers of the ocean are more calm and stable than the superficial ones with the waves.
This meditation takes you to these deeper layers. It isn't easy to discover the subtle difference between the layers if you aren't meditating for some time already and therein have some experience of researching how the mind functions. Therefore this meditation probably isn't that suitable for beginners and more for the more experienced meditators. The quality of the audio is a bit less than normal, for which my apologies.



Disclaimer
For the use of these audio's, the same applies as for al my other trainingsoffer; where meditation can be very useful for people with psychological health issues, the guidance of a specialised professional is necessary. My offer, which includes these audio's, is not aimed at people with mental disorders like strong depression, psychosis, bipolaire disease, schizophrenia, post traumatic stress disorder or personality disorders.
The use of these audio's is completely for own responsability and Meditatie Amsterdam can not be held responsible for any form of physical or mental problems related to the use of them.